All you need is love – even if you're covered head to toe in tattoos and you changed your named to King Of Inkland King Body Art The Extreme Ink-ite.
Images VIA
Ink-ite – formally known as Matthew Whelan – is known for his incredibly detailed body art, which covers around 90 percent of his body.
The dude's even dyed his eyes black and had his nipples removed to allow for more ink room, not to mention he's got a Jeremy Kyle stamp on the back of his head.
While he's happy with the art work he's had so far, the 39-year-old has spoken out about life as a single man, slamming "shallow" women who either reject or fetishise his unusual style.
Speaking to the Daily Star, the Brummie said:
I have a very active social life. But I haven't had much luck finding love.

A lot of women are put off by my tattoos or it makes them really curious. I'm a bit like Marmite so you either like them or you don't.

I've had about 15 to 20 relationships in my life and have definitely got more attention since I got my tattoos.

But since my last relationship ended two years ago I haven't had anything serious.

I'm nearly 40 so I would like to settle down and have a family. But at the same time I understand that the way I look might create an issue for some people.

A lot of women are really shallow and only go for guys with Love Island-type bodies. Then I get other women who are just interested in me because of my tattoos.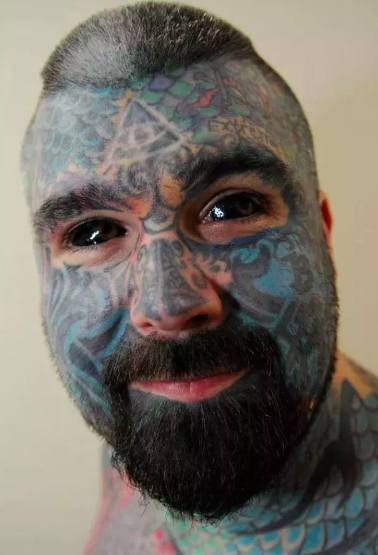 Poor guy, sounds like he's not been lucky in love. Here's an idea – maybe he should hit up that woman who whipped out her Jezza tattoo in front of the (former) TV show host himself. That's at least one thing they've got in common already.