They say that a marriage should last forever, but in the case of 69 year old Ron Shepherd this definitely isn't the case as he's walked down the aisle an incredible nine times – and looks destined to probably do it again as his latest fiancee has just run off with another guy. Again.
Images VIA
Ron had struck up a relationship with 28 year old mother of one Cristel Lalec whilst she was living in the Philippines. Not really sure how he managed to do that, but I'm guessing it was probably when he was on holiday or on the internet or something.
Anyway, the pair were talking and he asked her to marry him on New Year's Eve last year and she turned up to live with him in Somerset shortly afterwards. They never had sex due to her 'Christian beliefs' but Ron is still suitably devastated after she packed up all her stuff to go back to the Philippines and left him for another man: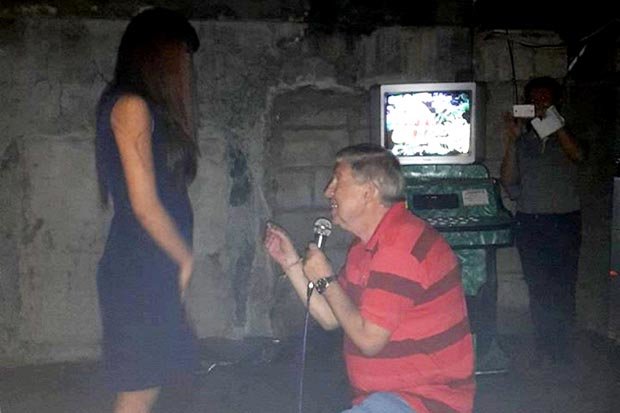 I'm devastated by this, I did everything for that girl and she does a runner, I feel like such a mug.

She looked at me for a long time and said she was flying home next week and wished me goodbye.

I now know she was saying goodbye for ever, I checked her room after she left and realised she had taken all of her luggage.
I mean I suppose you've got to feel sorry for the guy but what did he honestly expect when he was going out with a gorgeous woman from another country who was 41 years younger than him who refused to have sex with him? Guy really was looking at the whole situation with some suitably rose tinted glasses wasn't he? Is anyone else actually surprised this has happened?
Anyway, wishing Roy the best of luck on his continuing search for love and next marriage – hopefully the next one is a keeper. For more of the same,  here's how one photograph led to the death of a marriage. Tragic.