The controversy about Britain's first gay dad ditching his boyfriend for his daughter's 25 year old ex boyfriend erupted last week and it seems like the story is getting even stranger after they now revealed that they were planning on having a couple of babies and that the family all still lives together.
Featured Image VIA
50 year old Barrie Dewitt-Barlow revealed that he had split with his husband Tony after 32 years of marriage having fallen head over heels in love with 25 year old Scott Hutchinson last week, but now he's letting the world know that the pair plan on having twins together. Incredibly, Tony will act as a godfather to the new arrivals and the three of them all still live in the same house.
That probably sounds rather awkward to you or me, but Barrie is insisting that they all get along famously, saying the following: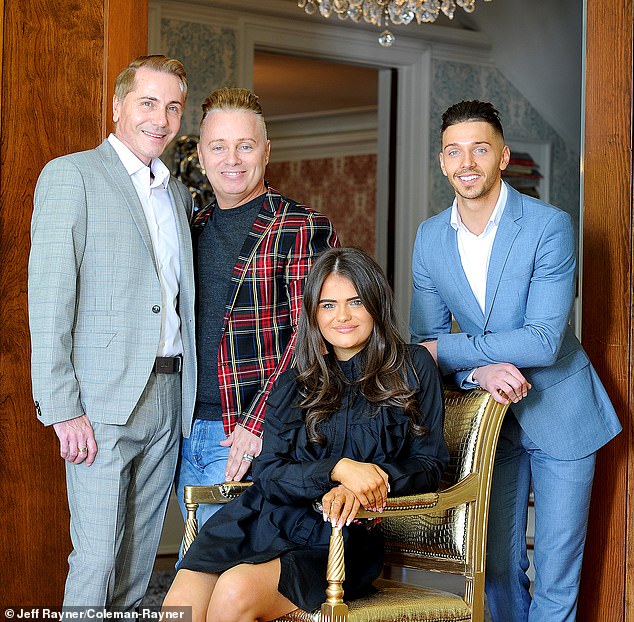 I don't want there to be any secrets and I want to get any negativity out of the way before our babies arrive.

Yes, it is unorthodox, but we are a loving family and our priority is to have a stable home for our kids and what is now an extended family.

It works for us – and if people are shocked, well that's their problem not ours.

I hadn't contemplated having any more children, especially at my age.

But Scott has always wanted to have a child of his own so I said if he wanted us to be parents together, I would support him in that and have a baby with him.

I wanted to make sure that Tony was going to be ok with it, especially as he is seriously ill and in need of constant care and attention himself.

I can't believe that 20 years ago I was doing the exact same thing with Tony and I'm here again, full circle. I'm excited but nervous now. Tony has promised he would be godfather.'

I want to do this with Scott because I know he really wants to be a dad and I want to parent with him and share the experience with him.'
I mean he says that now but even the fact he's talking to the papers about this ridiculous situation tells me that it's definitely going to explode in all of their faces very very soon and something stupid is going to happen that we'll be writing about before too long. It's what always happens, every single time – mark my words. Good luck anyway guys.
For more of the same, check out this woman who lives with her husband and two ex boyfriends. Sounds stable.