It goes without saying that 99% of the time if you're invited to someone's wedding then you have to attend, but when you're faced with a set of rules and guidelines like the ones in this article then you're probably gonna think more than a few times about not showing up.
Featured Image VIA 
This wedding invitation was posted on Facebook and to say that it's aggressive and ridiculous would be somewhat of an understatement. The bride is not only having the wedding in South East Asia but for some reason demanding that attendees spend at least two weeks there and spend $5000 on their trip – even though their wedding is only going to last 2-3 days. What?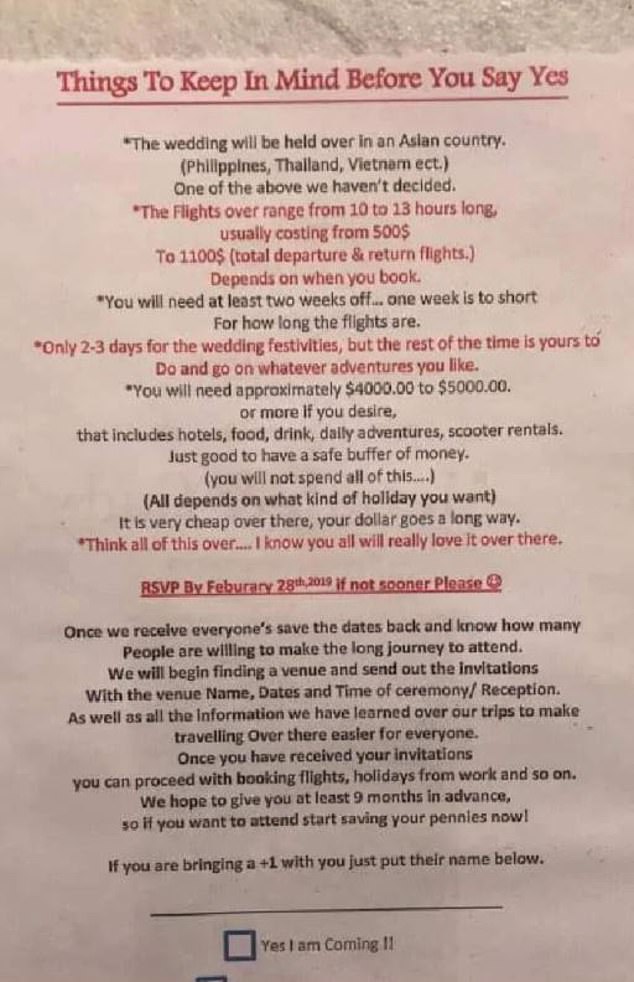 I mean what the hell is she talking about there? I do understand that obviously getting to South East Asia is going to be a bit of a mission for most of the people there, but surely it's up to them to decide how long they're going to take off work and spend there if they do decide to come – it shouldn't be a requirement that they spend that much money and time there.
It might be a bit impractical but I'm sure there are some people who can afford to fly in and out for it and will do so. It's almost as if she's demanding that she takes the credit for the fact that people might extend their holiday and have the trip of a lifetime.
Needless to say, most people have called her a bitch and aren't attending the wedding. Can't blame them either.
For more of the same, check out this woman who demanded that guests donated $1500 to attend her wedding. What are people honestly thinking when they do stuff like that?