The general election is supposed to result in a more united country, but it looks like some political parties themselves can't even stay united in the second week of the campaign as several Brexit party members turned on Nigel Farage after he revealed that the party would not contest 317 Tory held seats.
Images VIA
Farage made the revelation during a speech on Monday as it was feared amongst Leave supporters that votes in several key areas could be split between the Tories and the Brexit Party. He said he made his decision after watching a video where Boris Johnson vowed not to extend the Brexit transition period beyond December 2020, although I'm not sure why he would believe that as Boris famously said he would rather be dead in a ditch than extend Brexit past Halloween and then went and extended it, but what do I know about politics?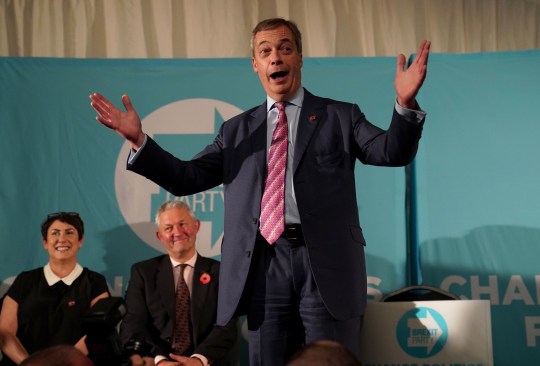 Anyway, the backlash from the Brexit party has been pretty extreme with many candidates who were planning to stand in Tory constituencies labelling Farage a traitor and claiming that they've been disenfranchised by their own party. Here's ac couple of the best reactions:
It's putting Nigel before country. He will go down in infamy letting down so many good people with whom he sought their trust. He is finished as a ploitician@ https://t.co/zFiGhmUh8a

— Robert Wheal Brexit Party PPC (@RobertWheal) November 11, 2019
I will be one of millions of people who will not vote at all in the General Election. That breaks my heart. I have voted in every election since I was 18 and been involved in politics for over a decade. And I have been disenfranchised by my own party.

— Alexandra Phillips MEP (@BrexitAlex) November 12, 2019
I started on this road to change politics for good but finish realising while career politicians are at the top it will stay bad forever. https://t.co/4zdphGP7Sd

— Darren Selkus EX Brexit Party PPC Epping Forest (@BrexitParty_DS) November 12, 2019
Wow. Pretty dramatic stuff from some of these guys and I suppose the sad thing for them is that they'll go down as little more than footnotes in history when it clearly means so much for them.
The people saying that Farage is finished as a politician are quite funny though – that guy is never going to be finished. Stuff like this always happens and he's always around coming back for more. We'll never be rid of him.
For more of the same, check out the BBC doctoring footage of Boris Johnson. So many twists and turns in this election.