London has ground to a standstill this week as the Extinction Rebellion movement rolled into town and refused to move, blocking off access to many of the busiest streets in the capital in an attempt to raise awareness and demand action about the current climate change problem.
Featured Image VIA
Unfortunately, one of the men that probably holds the key to changing government policy regarding climate change is Boris Johnson and he doesn't seem to have any time at all for the protests. Speaking at the London launch party for the third volume of Margaret Thatcher's biography by the former editor of The Daily Telegraph, Charles Moore, he resorted to calling the protesters derogatory names and pretty much calling them all twats.
Here's what he had to say: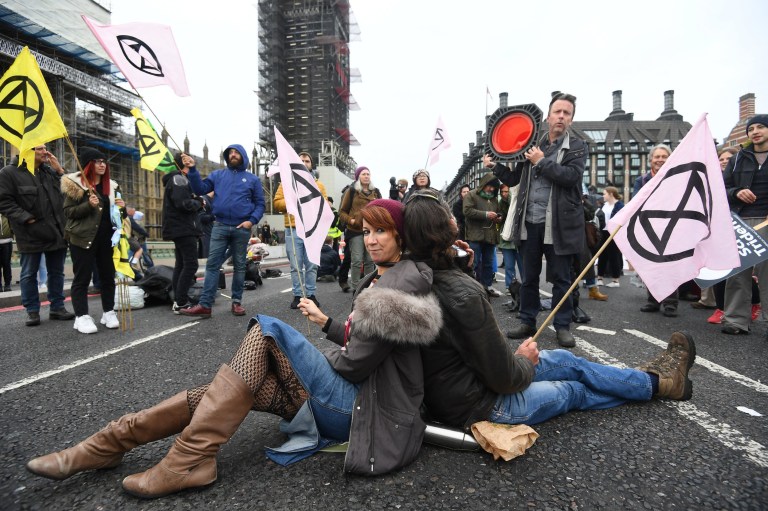 I am afraid that the security people didn't want me to come along tonight because they said the road was full of uncooperative crusties and protesters all kinds littering the road.

They said there was some risk that I would be egged. And so I immediately asked the faint hearts in my private office, 'What would Margaret Thatcher do?'

If she could take the extraordinary risk of sending a task force halfway around the world through tumultuous seas to recapture the Falklands, I think she would have crossed the road to speak at the Banqueting Hall.

I hope that when we go out from this place tonight and we are waylaid by importunate nose-ringed climate change protesters, we remind them that she was also right about greenhouse gases.

The best thing possible for the education of the denizens of the heaving hemp-smelling bivouacs that now litter Trafalgar Square and Hyde Park would be for them to stop blocking the traffic and buy a copy of Charles's magnificent book so that they can learn about a true feminist, green and revolutionary who changed the world for the better.
Cool soundbyte bro. How is it that Boris Johnson manages to turn a debate about climate change into a promo for a book about Margaret Thatcher? Kinda missing the point there and everything about what Extinction Rebellion are trying to achieve with these protests, but I guess he is busy causing a breakdown in communications with the EU over Brexit so we can give him a break on that one. Sure.
Not very woke of him to attack people for looking different to him or having different beliefs to him, but I suppose that's kinda par for the course for Boris and most world leaders these days. So it goes.
For more of the same, check him out vowing to make Britain the greatest place ever post Brexit. Looking forward to it pal.