Bombay Sapphire is the world's fastest growing gin brand and the fact that they are sponsoring awesome competitions like this is probably a big factor in that. Now in its second year, the Imagination Series Film competition – in association with the Tribeca Film Festival up in Manhattan – gives entrants the chance to make their own short film via interpreting a script written by Academy Award winning screenwriter Geoffrey Fletcher, who wrote Precious that came out back in 2009.
The idea behind the competition is that you visit www.imaginationseries.com and view Fletcher's script. You then submit your interpretation of the script and your ideas of how to turn it into a short movie onto the site. The most imaginative of these will then see their movie actually made and will be involved in the production process alongside an assembly of world class talent.
The competition is open until August 13th so you still have a couple of months to get your ideas in, when they'll be judged by Fletcher himself and Oscar winning actor Adrien Brody as well as a 'panel of experts' from the Tribeca Film Festival. They'll pick the best four that will go into production and then they'll also put a shortlist of five ideas up for public vote, with the winner also going into production. These films will then premier at the Tribeca Film Festival in April 2014, which is a pretty sick prize and pretty sick showcase for your talents.
Below you can find a promotional video that perfectly describes the process that I've just articulated in the above paragraphs and is probably a lot more entertaining, check it out if you're still having doubts about entering:
It's no real surprise that Bombay Sapphire is sponsoring the Imagination Series as they're a very forward thinking brand who are eager to inspire the creative process. You can see the creativity in their own product to begin with – the distinctive blue bottle and the vapour infused distillation process used in the production of their brand of gin was truly original when the recipe was first developed in 1761. Since its reintroduction in recent times, this creativity has been present in the Bombay Sapphire's every move.
Both Geoffrey Fletcher and the Tribeca Film Festival are excited about running this competition and Fletcher in particular seemed pumped about it, especially following the calibre of some of the entrants last year. He offered this quote: 'I'm honoured to be part of this special creative journey with Bombay Sapphire gin for a second year.  The calibre and creativity from past finalists was astounding and has set an inspirational benchmark for this year's competition.'
You can check out a couple of the finalists from last year below to see the kind of film you can expect to be making if Adrien Brody and Geoffrey Fletcher pick your idea on August 13th. Remember to head on over to www.imaginationseries.com to enter.
UPDATE: The competition deadline has been extended by two weeks until August 18th at 11:59 pm so if you're in two minds about entering then you should still definitely give it a shot. You can also find a copy of the script that you would be working from if you choose to enter right here:
Here's a nice graphic they've made to push the new deadline: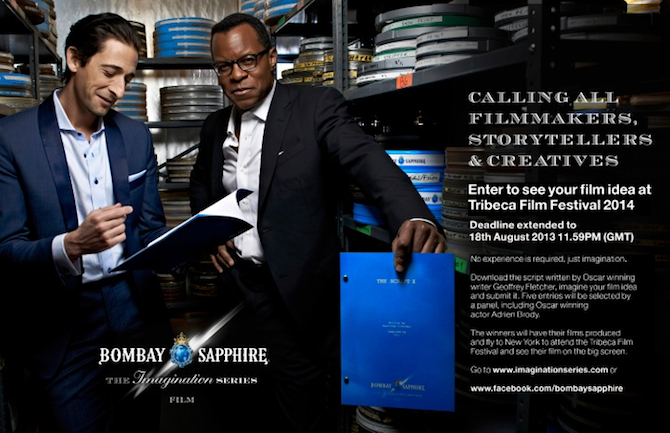 Here's a quick synopsis of the two short films I've picked from the finalists to show you in this article:
Alexis Barroso Gasc is a writer, director and graphic designer from Spain, whose film 'Concrete' is set in an office block and tells the story of an executive man, a cleaner and a box, which brings your deepest darkest desires to life.
James Griffiths is a full-time film maker from London, whose film 'Room 8' is a live action cinematic piece in which miniature people, parallel universes and a twist at the end provide a true cinematic experience for the masses.
☛  More Films: 
Ghanaian Movie Posters Are Crazy
Empire Magazine's Top 20 Iconic Movie Moments 
We Explain Why Your Film Choices Suck