It's an accepted fact of life now that if you're amazing (?) at social media, then you won't need to get an actual job and can just spend your life blogging or YouTubing or whatever and endorsing products for insane amounts of money, but what happens if your account gets deleted for no reason?
Featured Image VIA
This is the problem that is currently facing Instagram blogger Jessy Taylor, who had her account with 113,000 followers deleted for no reason recently. She's taken to YouTube to warn people  against reporting her in a tearful video, as her account is how she makes money and the 9-5 life is not for her.
Here's the video and a transcript of it below:
Hi guys, I'm in the middle of editing and my Instagram got deleted.

I'm trying to get it back, I'm calling everybody I can and I don't know why it's not working out for me.

I'm nothing without my following, I am nothing without my following.

And when people try to hate on me or report me I'm literally trying to be a fucking better person.

I want to say to everybody that's reporting me – think twice because you're ruining my life, because I make all of my money online, all of it and I don't want to lose that.

I know people like to see me be down and be like them and the ninety per centers – the people who work 9-5 – that is not me, I am in LA to not be like that.

I've worked so fucking hard to get to where I'm at and for that to get taken from me is the worst feeling in the world.

I was a fucking prostitute… I don't do that anymore because I make all my money online. I don't want to go back to that life.

What some of you guys have to realise is I have no skills, I'm twenty-fucking-thousand dollars in debt from college so I can't even go to college if I wanted to.

I used to work at fucking McDonalds before I did YouTube, Instagram, before I had 100,000 followers, before I had everything in my life I was a fucking loser.

I'm not saying there's anything wrong with working at McDonalds because I worked there but I don't want to go back to that life.

I have no job qualifications, I could never work a normal job.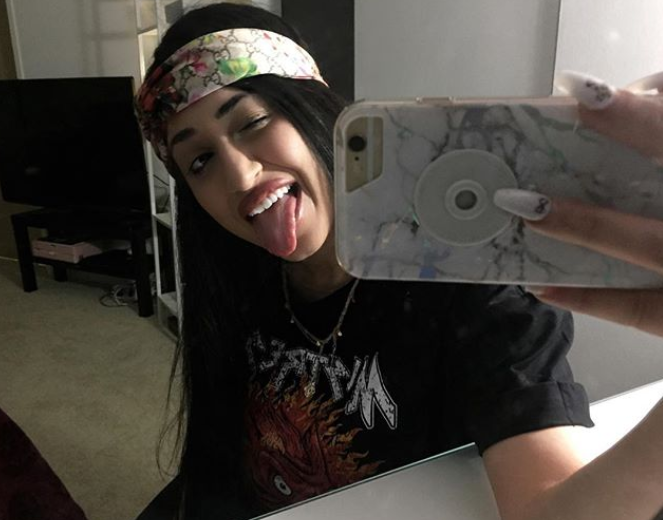 Yeah, not really sure what to make of that really. I'm sure she's going to get a backlash from a load of people because she's making her money off blogging and people genuinely look down on that as a profession, but it's definitely not cool that vindictive people have caused her to have her only way of money taken away from her for no good reason from what I can tell. That sucks.
On the flipside though, I imagine it wouldn't be that difficult for her to go back to working at McDonald's and I feel like she must have some qualifications if she already went to college so there must be some job out there she can get? Uploading a video crying about it onto YouTube isn't really gonna do much except probably incite more hatred towards her.
Fairly certain there must be someone out there at Instagram that can probably help her and she probably will get her account back at some point if she truly is innocent too. Here's hoping.
For more of the same, check out this racist couple crying after they got jailed for carrying out a brutal attack. Serves them right.