Theme parks are meant to give the impression that they're somewhat dangerous while guaranteeing 100% safety; the whole point is the thrill of feeling like you could die while knowing you're actually completely safe.
However any time there's water involved, that's when things actually get dangerous. People pissing in the swimming pools, random germs and microbes and STDS flying around, the worry that the wave machine is going to rip your swimsuit off and expose your freshly STD'd, shrivelled up penis/vagina to the world. Still, one thing you don't expect is to wind up with your genitalia completely shredded.
That's what happened to 19 year old Shelby Clarke who she fears she may never have children after receiving 250 stitches in her vagina, after being blasted by a water jet at Blackpool Pleasure Beach. She was actually just 14 when the incident occurred at the park's 'Spectacular Dancing Water Fountain', which features powerful water jets spraying up to 200 feet.
Shelby visited the park with her mum, step dad and friend Sarah:
There were loads of kids running through the water jets so Sarah and I joined in. It knocked me off my feet and I felt I needed to go to the toilet immediately. But I noticed there was blood everywhere.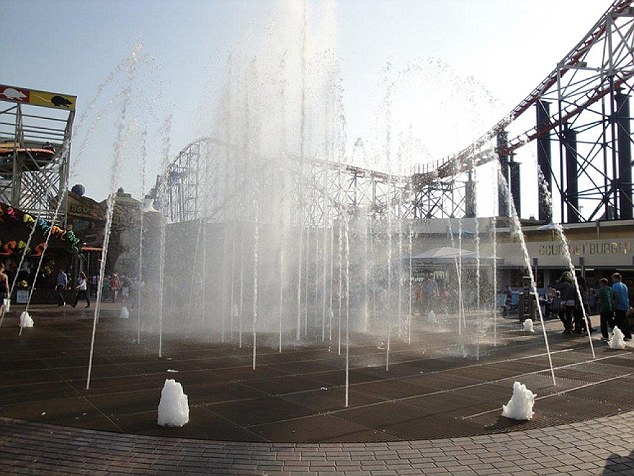 Images VIA
She was rushed to hospital and spent 2 hours in surgery receiving 250 stitches, both external and internal.
Her mum Karen said:
When I saw what had happened, I was sickened. I was sickened. She was badly injured, literally ripped right across from her bottom to her vagina.
Shelby now has a boyfriend, but sex can get painful at times.
I can enjoy sex but I can't have it very often — and so then I start to worry that Danny might cheat on me and leave me.
Shelby has since been awarded 5 figures in compensation including funds to cover treatment in the future when she wants children. A spokesperson for Blackpool Pleasure Beach said:
Since the incident, strict procedures have been out in place to ensure guests do not enter the fountains during a show.
Probably wise that. Still not the most horrific injury to a vagina we've ever heard of.