A mum of three over in Birmingham has spoken out about having to live in her 'shithole' council house, which she claims in uninhabitable.
Images VIA
34-year-old Natalie Lee moved into the house in July as part of a tenants' swap with another family. But rather than moving into a nice, cosy place to call her own, she has said that the house is an absolute hellhole. In her desperation to move her family into a hostel, Lee has accused Birmingham City Council of not acting quickly enough:
I've lost count of how many times I've contacted the council.

The final straw was when I used a steamer on the wall and the fireplace fell down. It is making me ill, it is making my children ill.

I don't have visitors, I'm too ashamed. My sister had a baby in September, but I won't have her here.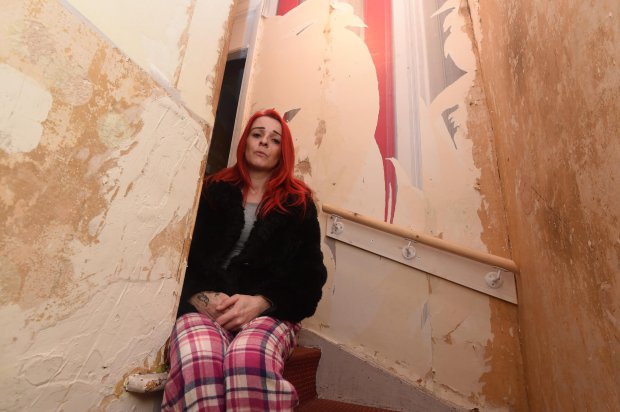 To be fair to Lee, this place does sound similar to a crack den squat rather than a place to raise three children. The kitchen sink is currently being held up by a plank of wood, a cupboard is balanced on a mug, the skirting boards have been stripped and left, doors are hanging off and there are puncture marks on the window. Blimey. And all this is made even worse by the fact that Lee suffers from OCD:
I am thoroughly ashamed of it.

It is a building site, it's horrible. My daughter spends most of the time at her dad's; my 14-year-old son refuses to sleep here and is at his gran's.
To be fair to the council, it does sound like they're trying hard to make repairs and they added that:
Ms Lee was a party in a mutual exchange request, driven by the two parties involved who were both very keen to move into each other's properties.
There are always two sides to every story – perhaps Lee was being pushier about the exchange than she lets on. Either way, that must suck to live in such a massive shithole. It still can't be as bad as this place though.