I must admit, I'm partial to the odd Nando's from time to time: half a chicken (hot), spicy rice, chips and some grilled halloumi, all washed down with an ice-cold Brazilian Brahma beer.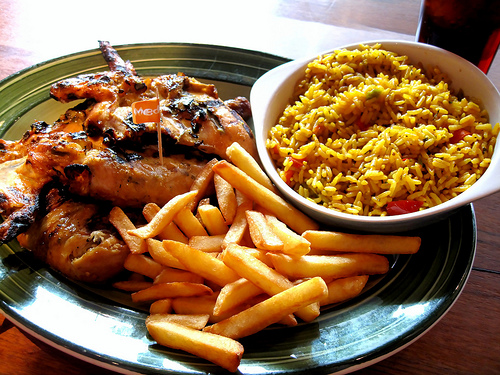 The above might tempt most of you, but not Beyonce Knowles… She racked up a hefty bill in a Chelmsford branch of Nando's last Saturday following her V Festival performance that would make even the biggest fried chicken fiend shudder. Her ludicrous order consisted of:
48 whole chickens
24 tubs of coleslaw
58 chicken wing platters
48 portions of chips
Drinks (Nando's are now re-evaluating their bottomless drinks policy)
This sobering order came to a grand total of £1,444.10, which is of course a mere tuppence to Beyonce. But I'm guessing that – as an upstanding American — Mrs. Carter also tipped the expected 20% (even though you don't necessarily have to tip at Nando's). This means the tip would have been £288.82, so that leaves a final total of £1,732.92 to pay… Would you pay that much cash to the tasty, but stunningly average restaurant chain that is, Nando's?
☛ More Beyonce: Beyonce Gets Hair Trapped In Fan During Gig
Check the bill for yourself. Pretty sweet how she payed in cash too huh?