Beyonce massively hyped up her appearance on Good Morning America on Monday morning, promising her fans she had a huge "announcement" to make and they'd better tune in to find out what it was.
Rumours started flying around all over the place. What was Beyonce going to announce? A new album? A new song? A new tour? A threesome with Jay-Z and Rihanna? Nope — she's going vegan.
Seriously, that's her fucking announcement. She's going on a vegan diet. That's what she made her fans wait hour and hours and wake up early to find out. Even the most hardcore Beyonce fans thought it was ridiculous: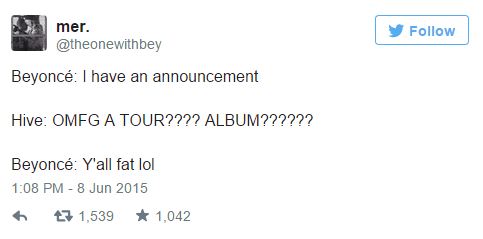 That's some well-deserved ego deflation right there. Seriously, this stupid idiot thinks anyone cares that she's going on a diet? Famous people are the absolute worst sometimes…
P.S. We were kind of hoping she'd finally admit to her top secret affair with Barack Obama.
Now check out one of these…