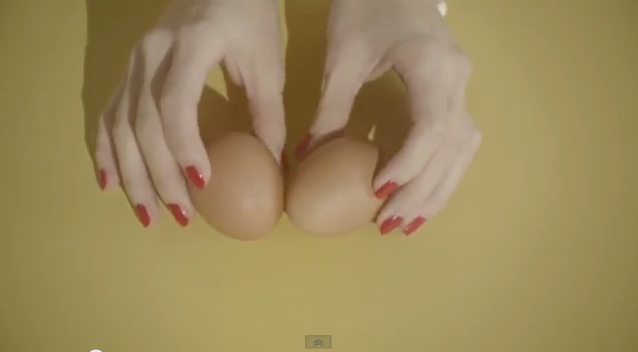 When you think of French underwear you probably think it's gonna be real sexy like some Agent Provocateur (even though it's British it has a French name and is real sexy) but unfortunately this isn't a bunch of sexy models parading around in their underwear looking sexy, it's just a really weird advert for men's underwear that doesn't even really make any sense. I think that's probably why I like it so much though. There probably isn't any real point in trying to describe it to you because it will ruin some of it's impact and bizarreness, but I'll try and discuss it briefly below the video. Meet me there.
[yframe url='http://www.youtube.com/watch?v=KG8M02ECKyU']

☛ More: Ridiculously Controversial Condom Advert (NSFW) 
Crazy huh? Just what the hell is going on in this advert? I thought when the woman came and put the eggs in the two different pairs of pants she was like just going to illustrate how a guy's balls were in them but then when she cracked them I was like 'oh boy, here we go.' I didn't really expect that really nice omelette or whatever it was at the end to show up. I guess it's just trying to show how much better the Slip Francais is when compared to a regular slip, but man is it a weird way to do it. I kinda like it though. I mean it's way more interesting than your standard ad that compares one product to another and in this case might say something like 'ob but it's so much more comfortable' or 'oh but the elastic is just so much stretchier' or something along those lines. It's got me sold anyhow. If I was the kind of guy that wore Y Fronts then I would probably be convinced to buy a pair Slip Francais after that advert if they weren't too expensive. If they were really expensive I guess I would probably just put them on my Christmas list or something.
That brings up another point with this video too. Who the hell is it aimed at because who the hell wears Y fronts anymore?
☛ More: Creepiest Advert Ever – Lock Your Doors And Windows NOW 
☛ More: Emmanuel Adebayor Stars In Weird Energy Drink Advert