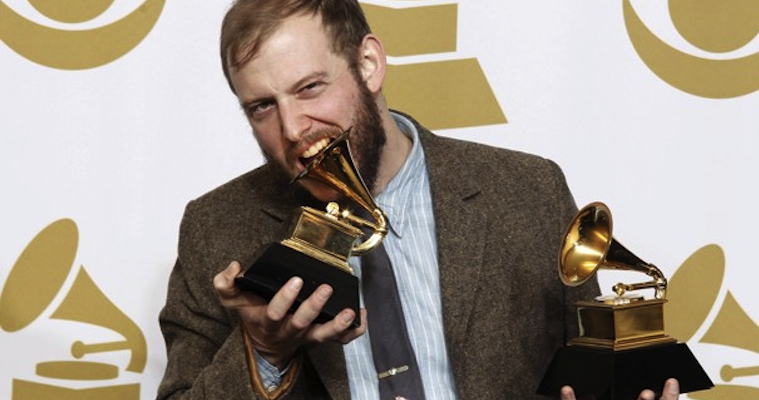 It seems that every year the Grammy's leads to a great new tumblr. Last year it was the turn of the Arcade Fire, as thousands upon thousands of people – including celebrities such as Rosie O'Donnell and Dog the Bounty Hunter – questioned just who the hell they were and how they hand managed to win a Grammy. This year it's the turn of Bon Iver who it again seems as though nobody in the world has ever heard of. Some guy got smart to it ahead of time this year though and actually PREDICTED the backlash that Bon Iver would receive at the grammy's and set his tumblr up way ahead of time. As such, there's a veritable mountain of classic quotes regarding Bon Iver and who he is to laugh at. I think my favourite is the people that call him Bonnie Bear instead of Bon Iver. It also perplexes me how people can get so angry about awards shows. I mean, sure maybe if you're actually nominated for an award but because someone you wanted to win didn't win the award for best new artist you're going to lose your shit and go crazy? Why!?
Here's a selection of some of the best comments, but if you want to check out the rest (there are a LOT) then head on over to Who is Bon Iver?
From @sofeaselene: 'all I'm wondering is who the hell Bon Iver is and how in the fvcking hell did he beat @skrillex!?!?!?!?!?!?
From @_ImChelle: 'so….does any black person know who bon iver is or is this one of those proud white moments?'
From @KOOLAIDKLEFF: 'This Bonny Bear character needs to shoot his barber'
From @Durkin_donuts: 'There is definitely no one who knows who Bon Iver is'
From Anonymous: I hope that stupid, bald, ugly, lame, talentless asshole gets fucked in the ass by 20 black men. best new artist my fvcking ass. and this bitch had the nerve to fvcking apologize to the losers some condescending asshole. I'd like to slice that fvcking smile off his face. For real.
From @Rico_Suave03: Who the hell is Bon Iver! This is a trophy for the white people!
From @That Gringaaaa: Wow. WHO THE FUCK IS BON IVER? FUCKING REALLY? YEA SO DON'T ACCEPT THAT SHIT, PUT IT DOWN AND LET A REAL ARTIST WIN THAT SHIT.
From @allysonolinger: What the fvck? Who the fvck is Bon Iver? Hello bitches, Nicki Minaj should have won, she has her own nail polish line. And lipstick by mac.
From @samoonta: Bon Iver looks like a bunch of guys who got together because they couldn't find a date on Saturday night.
From @throwupvomit: Bon Iver is the perfect soundtrack for masturbating while crying.
From @EddieAlfano: Bon Iver is a music thing. I'm so confused these days. Thought that was another dictator who died.