The other week, Bella Thorne signed up to OnlyFans and ended up making $1 million in 24 hours ($2 million by the end of the week) simply by putting her pictures up behind a paywall, demonstrating how unbelievably easy it is for attractive exhibitionists to make a killing online in 2020.
Featured Image VIA
Well the story has now taken quite a turn after Bella started messaging her OnlyFans subscribers promising exclusive nude PPV content for $200 (on top of the subscription they already pay).
anyways yeah, fuck you, bella thorne. pic.twitter.com/dKjxUMUWR0

— Kira Noir Inc. (@thekiranoir) August 28, 2020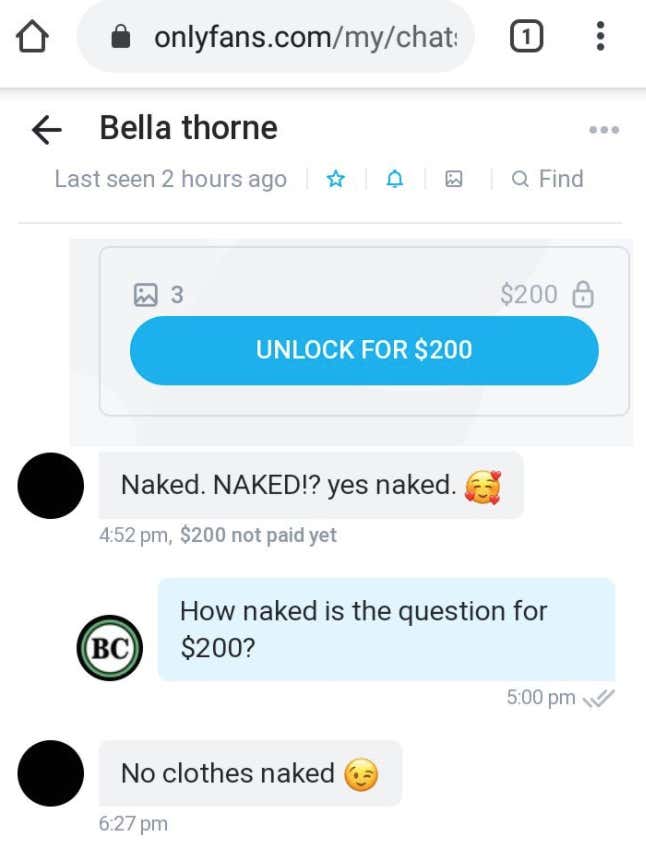 Turns out the content didn't include any nudes at all, which caused an insane ripple effect through OnlyFans that resulted in the platform limiting amounts that other content providers could charge for PPV and how much they're allowed to receive in tips:
i hope bella thorne never has a career ever again pic.twitter.com/dflxIdsFpN

— shelby | ia (@cloudmyg) August 28, 2020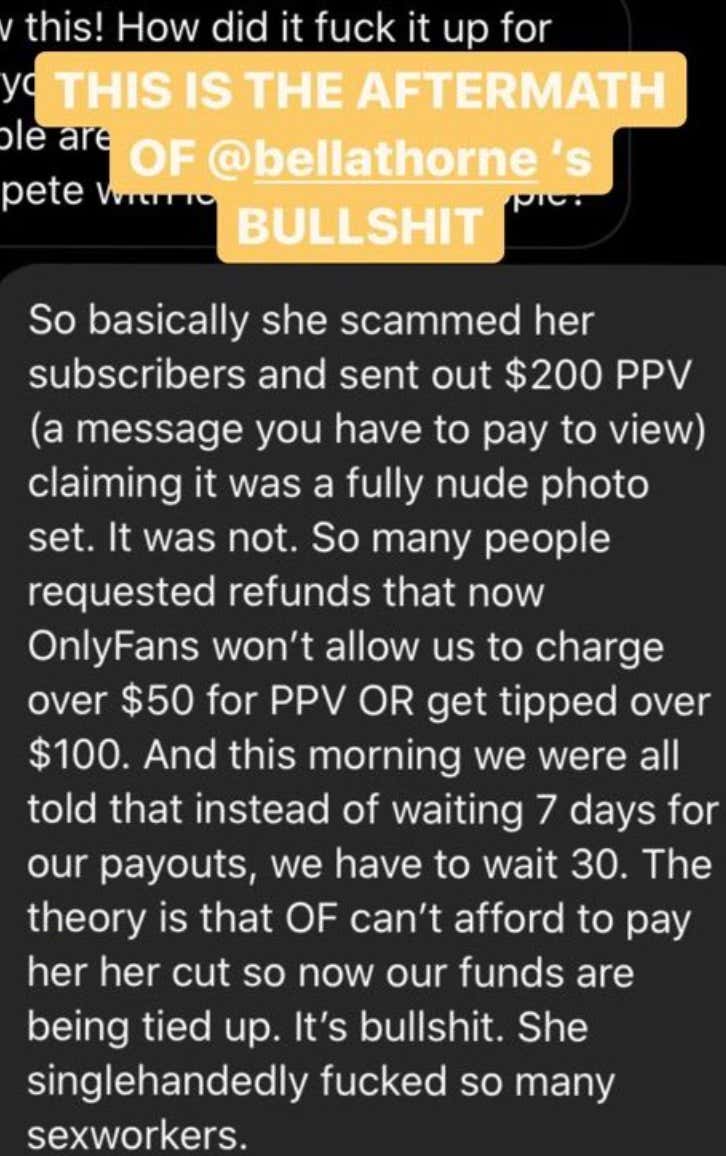 So basically, SO MANY people requested refunds after being scammed by Bella Thorne that it changed thee entire OnlyFans economy. OnlyFans have reduced the max price of PPVs to $50 and limited the amount users can tip to $100. Content providers now also have to wait a whole month before receiving payouts. Brutal!
Here's some more of the backlash she received from sex workers online and other content providers on the site: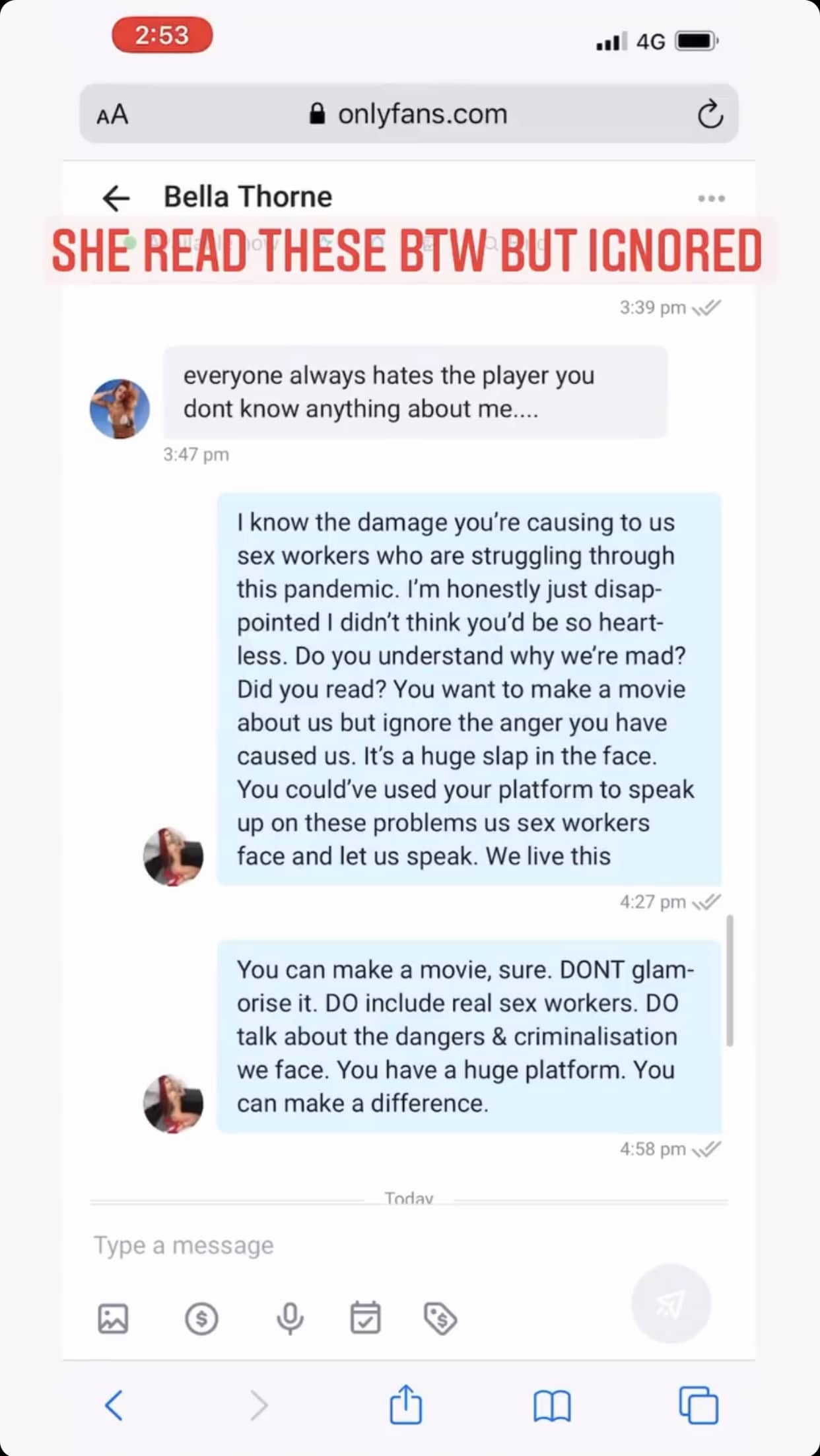 bella thorne fucked over thousands of sex workers whose primary income is onlyfans to research for a movie she's making about what the platform "does to its users" and ended up ruining the platform??? ok daniel day lewis pack it up 🙄

— helen (@helen) August 28, 2020
Bella Thorne really ruined a good thing for people who actually use onlyfans to make a living and pay bills.

— Sahlt (@AlyciaTyre) August 28, 2020
Whether you agree with onlyfans or not what Bella Thorne did was awful

— Sophia (@sophiaofficiax) August 28, 2020
Bella Thorne has since apologised:
…I am a mainstream face and when you have a voice, a platform, you try to use you in helping others and advocate for something bigger than yourself. Again in this process I hurt you and for that I'm truly sorry.

— BITCHIMBELLATHORNE (@bellathorne) August 29, 2020
Ps. I'm meeting with only fans about the new restrictions to find out why!!! This is fucked up and I'm sorry comment any ideas or concerns you want brought up to OF!! and send me your links and a pic so I can promote you guys

— BITCHIMBELLATHORNE (@bellathorne) August 29, 2020
Well it's pretty crazy that Bella Thorne made $1 million on her first day on the site and was still so greedy for more that she had to scam the losers who pay for this sort of content out of even more of their hard earned cash. Looks like she was happy to adopt a 'don't hate the player, hate the game' attitude until it all blew up in her face and now she's out there trying to do damage control. Pretty fair to hate the player in this case I think.
https://www.instagram.com/p/CDpBPB2HFfi/?utm_source=ig_embed
Meanwhile, guess which UK Page 3 legend is about to join OnlyFans and is also projected to quickly make £1 million? Yup, who else?