This week has been a difficult one for actress Bella Thorne. First up, she was threatened by hackers who managed to get hold of a series of nudes she'd sent her (now ex) boyfriend Mod Sun.
Featured Image VIA
Not wanting to be beaten by the threats, Bella bravely decided to post them on her own Twitter account, writing:
For too long I let a man take advantage of me over and over and I'm f**king sick of it, I'm putting this out because it's MY DECISION NOW U DONT GET TO TAKE YET ANOTHER THING FROM ME.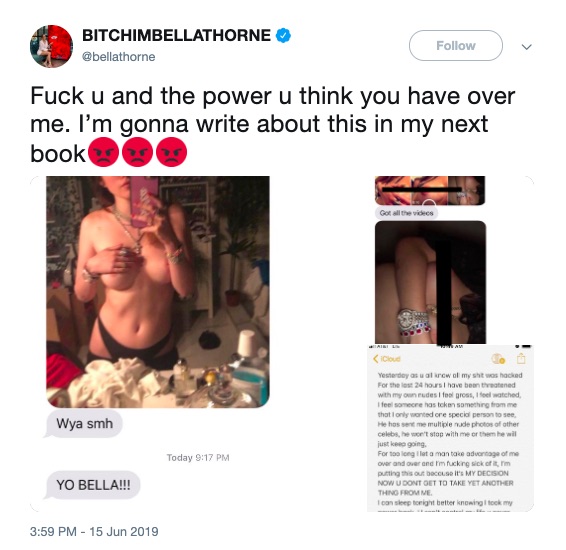 Many people were quick to praise the actress for taking a stand against the bullies and hopefully offering solidarity to a number of other people who have faced similar situations.
However, one person who took an unexpected stance against Bella's actions is actress Whoopi Goldberg, who decided to shame her for sending the nudes in the first place.
The View co-host showed no sympathy for the star on Monday's episode, effectively blaming Bella for putting herself in the position – as if she were to blame, and not the hacker. Whoopi said:
If you're famous, I don't care how old you are. You don't take nude pictures of yourself.

Once you take that picture it goes into the cloud and it's available to any hacker who wants it, and if you don't know that in 2019 that this is an issue, I'm sorry. You don't get to do that.
As you might've guessed, a flurry of angry viewers took to social media to slam Whoopi's comments.
Bella included, as she posted an emotional Instagram story in which she can be seen getting tearful and explaining why she won't be going on The View despite being due to make an appearance. Her reason? She doesn't "feel like being beaten down by a bunch of older women".
I don't want you guys talking about your views to young girls because I would not want my daughter to learn that and I would never say that to her.
Shame on you Whoopi, shame on you.
Bella goes on to explain why it's wrong to blame the victim and not the perpetrator, pointing out the similarity in Whoopi's argument to people who seem to think women shouldn't wear short skirts and go out drinking and dancing as they're essentially "asking for it".
Whoopi has yet to reply to Bella's statements, but no doubt the backlash has her rethinking her opinion on the matter.
For more controversies in which Whoopi got involved, here she is defending Liam Neeson after that interview.