When it comes to classic album covers, I'm fairly sure that Nirvana's 'Nevermind' is going to be up there in the top ten and probably at number one for a lot of people. It's just so associated with the band and so heavily embedded in popular culture that it just can't be.
Featured Image VIA 
Sadly for the naked baby pictured in the swimming pool desperately chasing after a dollar bill though, that was more than just a symbol for capitalism and was actually reflective of his part in the album cover as he never received any royalties or anything for his contribution. However, the baby is now finally ready to fight back and take what's rightfully his, as it's been revealed that 30 year old Spencer Elden is suing Nirvana for subjecting him to child pornography.
The lawsuit has been filed and states the following: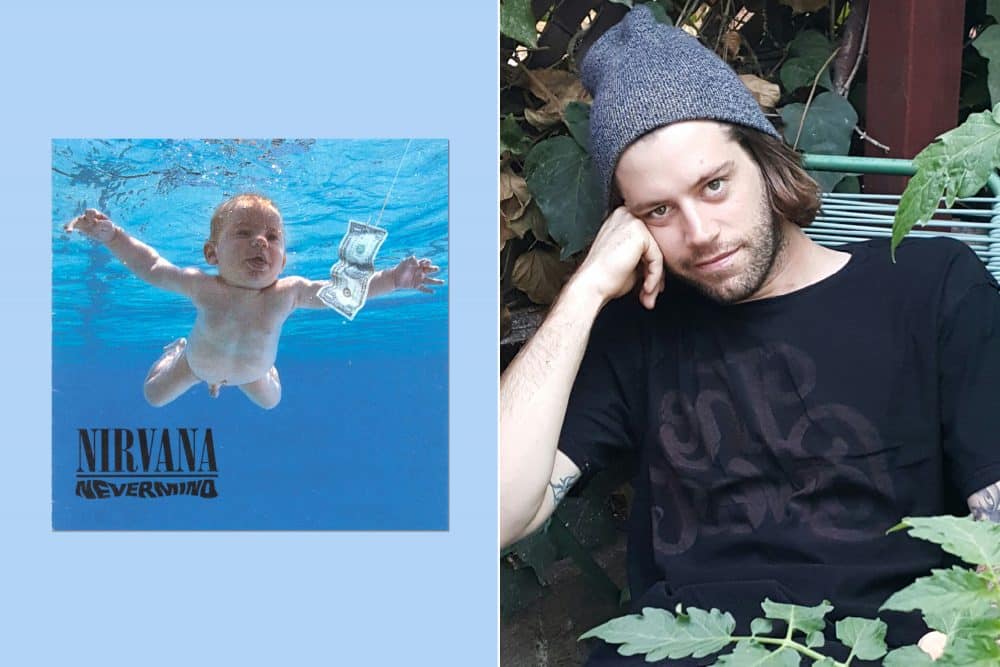 Elden has suffered lifelong damages.

The permanent harm he has proximately suffered includes but is not limited to extreme and permanent emotional distress with physical manifestations, interference with his normal development and educational progress, lifelong loss of income earning capacity, loss of past and future wages, past and future expenses for medical and psychological treatment, loss of enjoyment of life, and other losses to be described and proven at trial of this matter.

The defendants have knowingly benefitted from their participation in Elden's commercial sexual exploitation.

Neither Elden nor his legal guardians ever signed a release to authorise the use of any images of Spencer or of his likeness, and certainly not of commercial child pornography depicting him.

Nirvana were essentially engaged in a sex trafficking venture forcing Elden to engage in commercial sexual acts while under the age of 18 years old.
Hmm. I can kinda understand why the guy is a bit annoyed about never receiving any royalties or money whatsoever for his imagery being on the front of one of the biggest albums of all time, but I think claiming that it was child pornography almost 30 years after it came out is probably a bit much. He might be able to claim that he didn't really understand what was going on for most of his life, but the fact that he actively bragged about being the Nirvana baby and used that story to pick up chicks is probably going to go against him if this dumb case actually comes to trial.
I imagine Nirvana probably have enough money in their estate to settle this quietly out of court to avoid the hassle, unless Dave and Krist actively want to go through a boring and complicated trial solely to call him out and embarrass him for being a prick about all this. As always, we'll see what happens, but I reckon most of the world have probably got Nirvana's back on this because even if Elden does deserve some money for his image, to flat out call them paedophiles and child pornographers is pretty outrageous.
For more of the same, check out these sick photos of Nirvana on tour in Europe in 1989. What a time.