I don't remember where or when I was born but I'm pretty sure it was just in some hospital somewhere and I didn't win any kind of prize for being born. That's a completely opposite story to the one in this article though, because the kid in this one arguably got the best prize of all time just for being born in an awkward place.
Featured Image VIA
Gracelyn Mae Violet Griffin ended up being born in a San Antonio branch of American fast food joint Chick Fil A after mother Maggie told her husband Robert to stop there because she needed the bathroom. Out popped a baby instead.
Far from being annoyed that a baby had ended up being born in their restaurant, franchise owner Ben Stover instead decided to turn it into a great marketing opportunity by declaring that Gracelyn could get free chicken nuggets from there for life and offering her a first birthday party there free of charge. Some kids have all the luck.
Robert described the details of the birth:
o there we were…..my wife and I in a tiny stall in the bathroom, and I could see the top of our little girls head crowning as maggie was straddling the toilet.

I told Maggie, "sweetie, we are gonna have to do this right here, right now".

After shouting to the manager to call 911 and to bring any clean towels, Maggie and I started delivering our baby.

When she got to the shoulders, I realized the chord was wrapped around her neck TWICE.

Didn't want to alert my wife, so just told her try to relax for a minute and I was somehow able to unwrap the chord from the baby's neck.

With two more strong pushes, and using my shirt for a towel, out came Gracelyn Mae Violet Griffin.'

I was proud to wrap her in my Trump 2020 t shirt and proud that she was born in a Chick Fil A – a Christian organisation that closes on Sunday and does not support same sex marriage.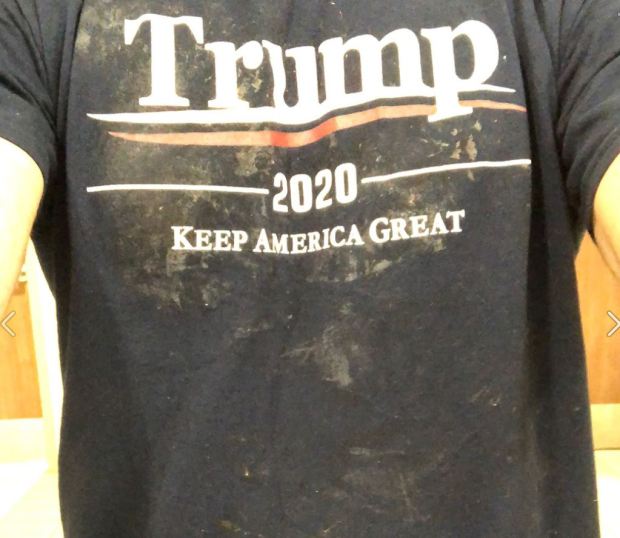 Man that was all such a great story until that last sentence wasn't it. What an absolute dickhead. Hope the baby chokes on those free nuggets and dies.
Actually I don't wish death on anyone, but here's hoping all that exposure to free nuggets causes her to hate meat and become a vegan activist and protester or something. I bet Robert would absolutely hate that.
For more chicken nuggets, check out the world's largest chicken nugget. Mind-blowing.