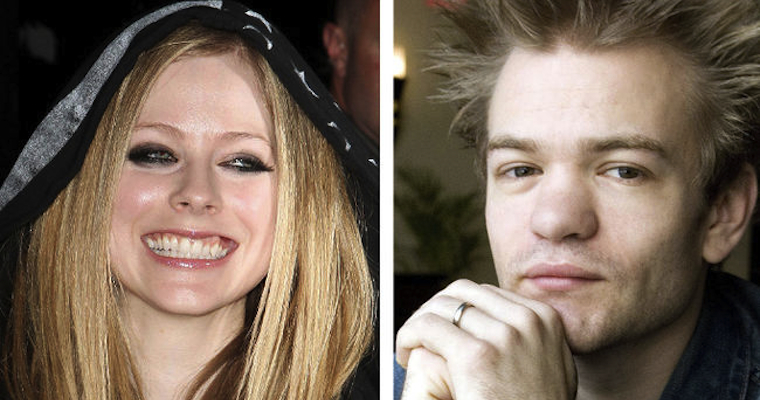 I really wanted to type Bizzy D or Deryck Whibley (sp??) in the title of this headline but I figured that nobody would actually know who that was because Sum 41 are pretty much largely irrelevant in popular music now and even at their peak back in 2001 or whenever I doubt anyone actually knew what the lead singer was called. More people were into Cone on the bass. Anyway I'm pretty sure that the only reason Sum 41 are even still relevant in modern society is because of the fact that Bizzy D used to be married to Avril Lavigne – does anyone know when they last put a record out or toured? – so it makes sense that he would try to desperately cling on to his fading stardom by exploiting his ex wife's new found happiness with Nickelback frontman Chad Kroeger.
So how exactly did Bizzy D choose to do this? By dressing up as his ex wife Avril Lavigne for Halloween of course. His new girlfriend – who isn't even a celebrity, which really illustrates just how far he's fallen since he split up with Avril – even dressed up as Chad Kroeger. I bet she was happy about that: 'Hey honey, for Halloween this year we're going to dress up as my ex-wife and you get to be her new fiancee, one of the most universally hated men in rock music, Chad Kroeger.'
☛ More: How Will The Lavigne/Kroeger Marriage Go Down?
I guess one day if she keeps hanging onto Bizzy D's arm and going along with his crazy stunts then the public eye might learn her name though. I would say she's got a 50/50 chance, but it really depends on the scale of any future pranks/episodes from Bizzy D. I mean they're going to have to be REALLY outrageous if he's going to stay in the public eye and be elevated to its forefront because he's just such a nobody these days. This was summed up by Chad Kroeger over twitter when he saw the costumes, with probably the best thing that Chad Kroeger has ever done. Check out the screengrab below: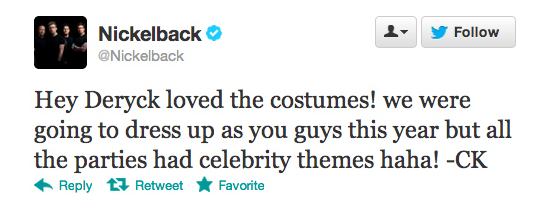 Anyway this picture below and hope that this is only the beginning of Bizzy D's remarkably bitter/weird behaviour:
☛ More: People Throwing Stuff At Nickelback
☛ More: Who Will Avril Lavigne Marry Next?