England sadly lost Euro 2020 on Sunday night after 120 minutes of football and three penalty misses and inevitably Saka, Sancho and Rashford were all immediately targeted by racists on their social media accounts which is pretty much all anyone has been talking about the last couple of days.
Featured Image VIA
Whilst that is obviously terrible, this tweet from an Australian news channel is even more tone deaf. 7 News Australia tweeted the following to announce the news of England's loss in a scarcely believable headline: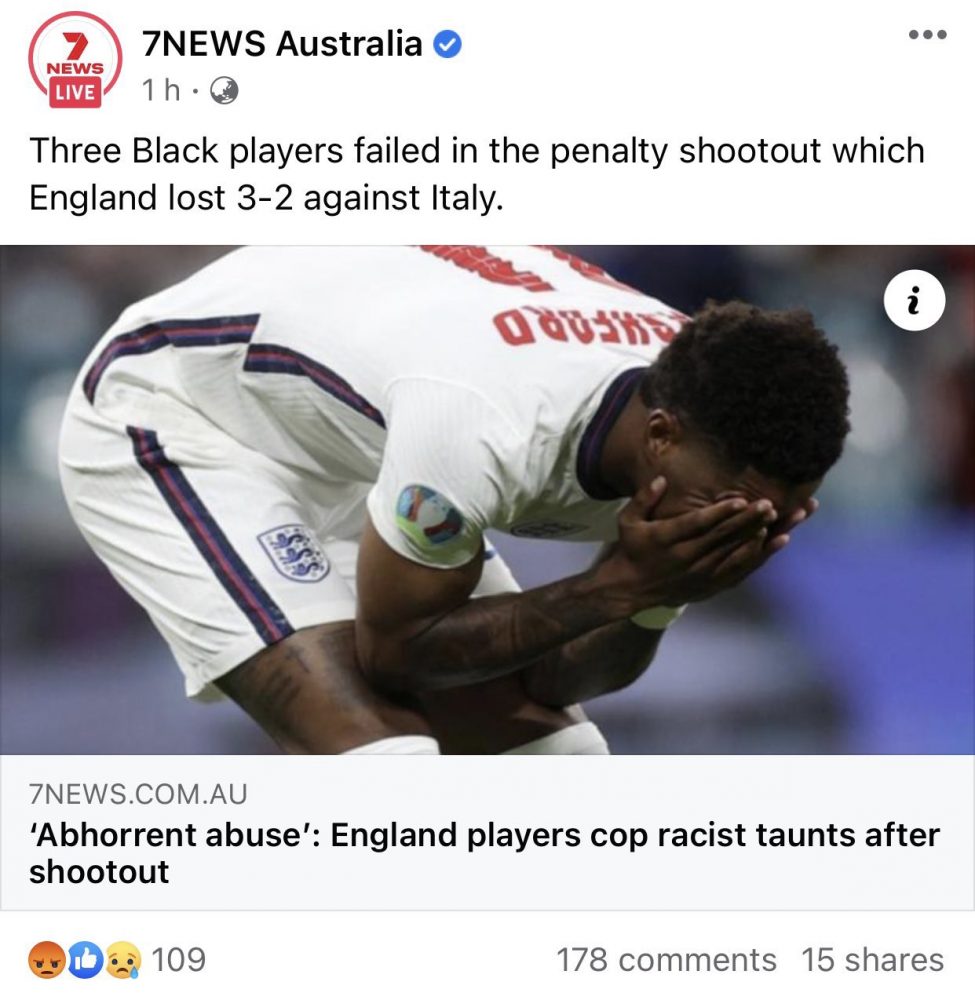 OK so I suppose in fairness to them the article headline is different to the blurb that they put on the Facebook post and it seems to be acknowledging the racist abuse faced by the players, but the fact is that the blurb is the first part that most of the people coming across the post will see and many of them won't even realise it's an article and won't click on it and that this is a terrible impression to leave people with for obvious reasons. It's just such a stupid and ignorant way to articulate what happened.
Here's some better explanations of why that is the case:
Hey @7NewsAustralia – what the fuck is with this headline? Have you lost your actual mind? And how has the person who wrote it been counselled? pic.twitter.com/FmLDf8b2KW

— Charlie Pickering (@charliepick) July 12, 2021
Is there any surprise, that in an all white Australian newsroom- in this febrile climate – this vile headline can be posted on Twitter, then quietly deleted, after a surge of complaints, without an apology or any accountability?

This is not about individuals- racism is systemic. pic.twitter.com/z2ZmvGm2EO

— Francis Awaritefe (@FrancisAwartefe) July 12, 2021
Hey 7News, remember when I declined your invitation to receive Indigenous young achiever award this year? This is why. Your corporation is racist. https://t.co/weACq1KX2l

— Ash Dahlstrom⚫️🟡🔴 (@AshDahlstrom) July 12, 2021
#7NewsRacist @7NewsAustralia disgusting. Public apology and heads must roll, else advertiser need to walk if they don't want their brand tarnished. Who wants to be associated with racists. No place for that.

Simply appalling. https://t.co/8Tbg8P4VVT

— John Sugunananthan (@john_sugu) July 12, 2021
7 News offered the following wishy washy excuse for the post shortly after it was removed:
The post linked to an article condemning the racial abuse of England football players following the team's loss to Italy in Sunday's Euro 2020 final.

The caption on the post was swiftly rectified as soon as it was identified. We sincerely apologise for the offence the post caused.
Yeah I don't think that's really gonna cut it, but even though I don't know much about 7 News over there in Australia I doubt there will be any lasting consequences. There never really is is there, despite what everyone says. Maybe the social media intern will get fired or something?
For more of the same, check out comedian Andrew Lawrence getting all his gigs cancelled after racist tweet aimed at the England team. Good.