It was all-out chaos in London last night as the Million Mask March hit the streets and caused all kinds of carnage, resulting in 50+ arrests by this morning.
At one point, some dude in a white Aston Martin DB9 got caught up in the Westminster crowds, and as he was driving a nice car I guess some of anti-capitalist crew didn't take too kindly to him.
Here's what happened:
https://www.youtube.com/watch?v=hM6sXO21M20
Well, got what he asked for really. Here's the aftermath: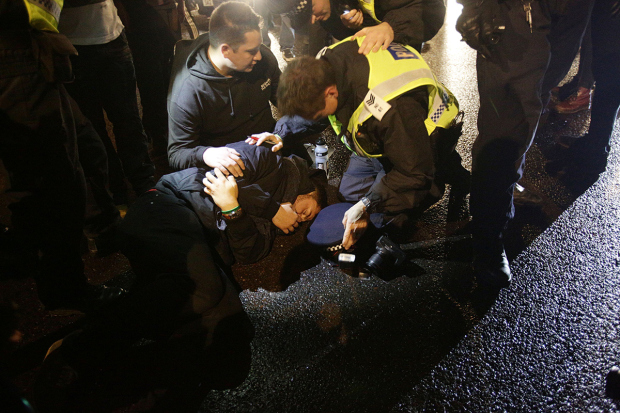 Images VIA
Meanwhile, here's what Met Police Commissioner Sir Bernand Horgan-Howe had to say about the evening:
My officers were well and truly in the front line. Fortunately, the four injured officers are doing ok. The most seriously injured was a mounted officer who was thrown from his horse, Embassy, after they had fireworks thrown at them in the Mall.

Injured officers, injured horses and 50 arrests are not peaceful protest. The event tied up nearly 2,000 officers – who in the main, came from our boroughs.

But, our work does not stop here. We now have investigations ongoing – not just into Whitgift Street [29 arrests so far] but dealing with those 50 arrests from last night and identifying anyone else who broke the law. I'm really proud of everything my officers have done this week.
Speaking of Anonymous, read up on the incredible irony behind the mask they all wear HERE.