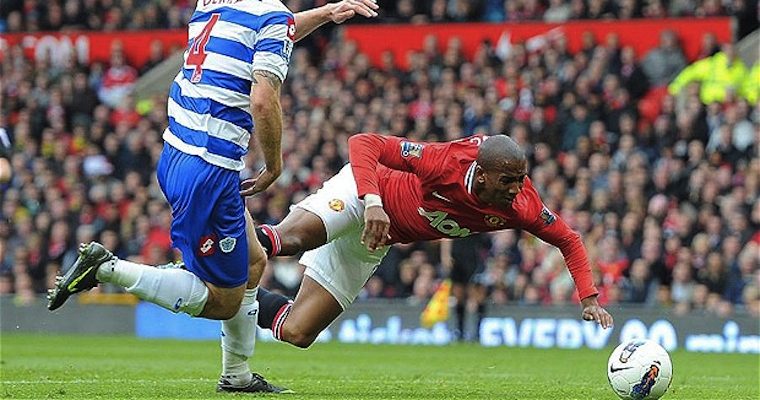 I've featured these cool Taiwanese animation videos that parody issues/dumb events going on in football a couple of times before (see Ryan Giggs Super Injunction Video and Ashley Cole Shooting A Work Experience Student With An Air Rifle) but it's been a good six months since I've featured one. I guess nothing that interesting has happened in football to inspire one huh? Or maybe I just haven't been checking them out so much.
Anyway, those Taiwanese dudes are back on form as this might be the funniest one yet. I don't really want to spoil it for you but the hook is that Ashley Young is portrayed as a diver throughout the video i.e. he's just wearing swimming trunks and goggles and a Manchester United swimming cap. There's something about seeing him running around the pitch in his goggles and swimming trunks and literally falling over his own feet that just makes me LMAO, you know? The video takes a darker turn later as it refers to Ashley Young's past as an Aston Villa player.
There is actually more but I thought it was quite funny to end the paragraph there. Anyway, apparently when he was at Villa he used to like naked webcamming with girls?! I didn't hear about this at the time but it sounds like the kind of stupid thing he might be involved in. It's illustrated ever so subtly in the video by a naked Ashley Young (admittedly he's naked throughout the video aside from his trunks) punching a steak whilst on a webcam. Whatever could that mean?
Check it out below:
[yframe url='http://www.youtube.com/watch?v=h5X_bVCGX1w']