If you haven't heard of him, Asa Butterfield is one of the biggest child (almost adult) actors in the game, having starred in The Boy In The Striped Pyjamas, Merlin and the worldwide sci-fi smash hit Ender's Game. Fortunately for us, he's also a massive fan of Sick Chirpse so was kind enough to take time out of his busy schedule – he's currently in New York filming a new movie with Ethan Hawke – to answer a few of our questions. Check out what he had to say below:
Your name is really unique (I'm including Maxwell Thornton Farr in that too), any stories behind how that came about? 
('Maxwell Thornton' is on my birth certificate, but I never use it, my passport/real name is Asa Bopp Farr Butterfield. Which is just as weird.)
My middle name 'Bopp' came about from the comet (Hale-Bopp) that was in the sky when I was born, other than that I just have my parents' names.
I've read that you first got into acting when you were seven, and starred in the Boy In The Striped Pyjamas when you were 10, was it surprising how quickly things developed for you? 
I never anticipated myself being an actor when I was younger, it never even crossed my mind. It was just a stroke of luck that a casting director spotted me at an after school class when I was 7 and wanted me to audition for a role. I guess it just took off from there.
It's well documented that Mark Herman auditioned hundreds of boys before casting you in BITSP despite being blown away by your audition, how was the waiting period during this process for you? Did you ever feel like you might not get it? 
Honestly, this was so long ago I can hardly remember how I felt during the auditioning process. I do remember there being about 13 different recalls where I had to go in and perform scenes in front of Mark and his team.
Have you always wanted to be an actor (since you were seven at least) and do you see yourself doing this the rest of your life? 
Only in the last few years have I really wanted to be an actor. As of now it is what I want to do for the rest of my life. But who knows, in 5 years I might get bored and decide to become a vet or some shit. It could just be downhill from here…
Did you enjoy your time on Merlin and do you have any plans to go back to TV in the future, or are you concentrating more on movies now? 
Merlin was a lot of fun, as I was in a few episodes here and there, it let me continue with my normal life and at the same time be a part of the great team. I'd love to go back to TV, I'm hoping I can sneak my way into the background of Game of Thrones.
☛ More Game Of Thrones: 90s Style Game Of Thrones Characters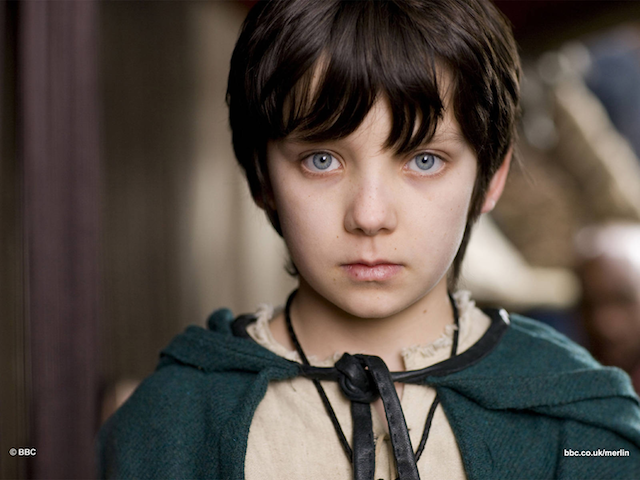 Are you worried about the transition from child actor to adult actor? 
I haven't really thought much about it, I tend to focus on where I am at the moment in my career. When the time comes I'll see how it goes. Although I have noticed that I'm being cast in more mature roles, which is the first step to becoming an adult actor. And considering I'm almost 6′ I don't think I can pull off a 12 year old anymore.
I recently read Corey Feldman's autobiography where he talks about the highs and lows of being a successful child actor, have you experienced any lows or is your life working out pretty much how you want it too?
I think I have been very fortunate with the things I've been exposed to. Living in London has helped a lot too, I think many child actors in Hollywood have a pressure on them to be this 'star' and to always be in the limelight. When I'm not filming I'm just like any other 16 year old.
Is it difficult to balance your shooting schedule with growing up in London and experiencing the problems and changes that all teenagers go through?  
I've had it pretty easy I think, balancing college work and filming is definitely the hardest part of it. But it's all worth it in the end.
Obviously you've worked with several legends of the movie making industry already, but who do you think had the biggest effect on you and why? 
Sir Ben Kingsley has been a massive inspiration for me. I've had the privilege of working with him twice now, and he never ceases to amaze me in both his skill as well as his humility.
I saw that you really liked burgers but weren't too impressed with In N Out Burger, what's your favourite burger in London? 
I've never been one for fast food places like Maccy D's, but Nando's do surprisingly good burgers.
☛ More Maccy D's: Woman Completely Loses The Plot After Being Denied Chicken McNuggets