In some of the best news you will hear this month (provided you're not an ignorant anti-gay supporter too), an anti-gay hate group inadvertently raised thousands of pounds for a teenage LGBTQ gala when they tried to get their supporters to shut it down. Perfect.
Featured Image VIA
It all started when the Safe Schools movement over in Australia – a "coalition of schools and organizations that aim to foster safe and inclusive environments for same-sex attracted, intersex, and gender diverse students, staff and families" – and Minus18 teamed up to throw a LGBTQ teen dance entitled 'the Victorian Same Sex Gender Diverse Formal'.
It was advertised as being in a safe space and attendees were invited to wear what they wanted, bring whatever they wanted and dance with whoever they wanted. The idea was that there would be no prejudice involved and these teens would be able to create happy memories of their high school experience for themselves.
The group decided this year to crowd fund tickets for teens who couldn't afford the $40 admission price, but unfortunately a group called THE STOP SAFE SCHOOLS COALITION (seriously) got wind of it and tried to target it and ruin all their fun:
Images VIA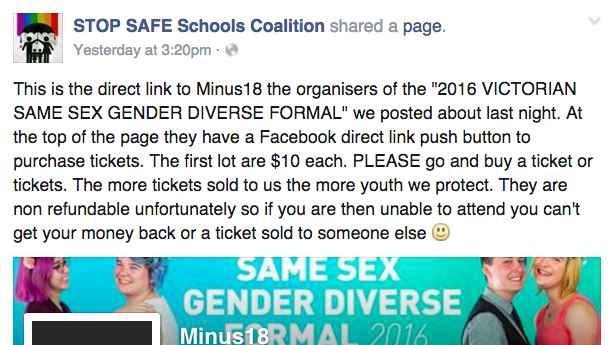 Oh shit. So because those tickets are non refundable, and these fucks are gonna buy them all, does that mean none of these teens would be able to go to the dance?
No, no it didn't. That's because THE STOP SAFE SCHOOLS COALITION are so dumb that they didn't realise that this was a crowdfunding campaign, so for every ticket that they purchased they were actually paying for an LGBTQ teen to ATTEND the dance, not stopping them from going. Lol. Someone even pointed this out in the comments but it doesn't seem to have affected anything.
As such, Minus18 have already raised more than double their $15K Crowdfunded target and are now planning on moving the gala to a bigger venue and upgrading the capacity to ensure more people can attend. Isn't it just the best when something like that happens?
Kinda reminds me of the time the leader of an antigay group ended up marrying another guy. Again.