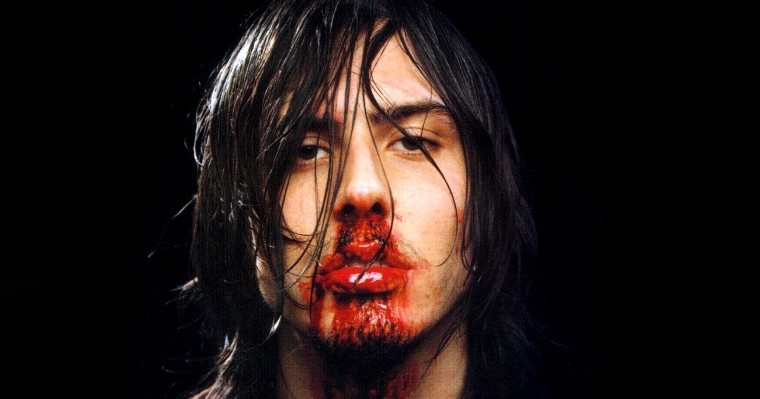 Attention all party fans. Officially the worlds most fun and positive man is returning to the UK to tour for the first time since 2003 and will be playing his massive banger of a debut album I Get Wet in its entirety. I've got to admit I hope he doesn't just play that 'cos I Get Wet is only 35 minutes long and that would be a pretty bent headline slot, but anyway whatever happens some unbridled awesomeness is clearly on the cards.
This is amazing news for a number of hard rocking reasons, but mainly because Andrew WK is batshit mental and the last decade has seen him embark in a series of extra-ordinary antics that will pickle your brain. Essentially Mario Balotelli is to football what Andrew WK is to music.
Raised in Michigan, Andrew started learning classical piano aged four before studying jazz keyboard at some mad hippy school (the schools mascot was a shitting rainbow zebra) and playing in millions of bands with fvcking terrible names such as: Music Band, Stormy Rodent, Mr Velocity Hopkins and The Malt Lickers. He also wrote a song about a girl he fancied at school that was so creepy he got a restraining order from da rozzers.
Clearly troubled by bad band names he formed Andrew WK, named after himself, and briefly they got massive doing their party thing all over the world with I Get Wet. Follow up album The Wolf bombed a bit, but AWK was still being absolutely boss. After breaking his foot on stage in 2004 he continued the tour, looking generally crazed as he thrashed around in a wheelchair.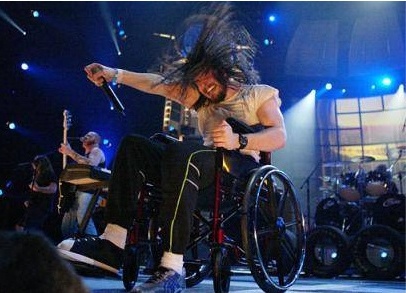 Things then got really odd as he stopped making music for a while, concentrating on being a self help motivational speaker and instead giving speeches with an emphasis on the power of party at universities all over the place including academic big guns like Yale and New York. Rumours then began to circulate that he didn't exist, that he was several different people warped by plastic surgery over time and that he was a record company's creation.
These claims were accentuated by the fact that he released two dangerously weird albums in Japan only (fvcking hipster) and an album consisting of 'spontaneous solo piano improvisations' inspired by his favourite car, called 55 CADILLAC. Kerrang Magazine likened it to Rachmaninoff as played by a fvcking lunatic. And not in a good way, in a spastically terrible way. As well as all this he wrote a Kit Kat theme tune used in adverts worldwide, produced reggae legend, Lee Scratch Perry's Grammy award nominated album Repentance and opened his own multi award winning nightclub in Manhattan. It has over 150 loud speakers in it. Last year he also released a collaboration with Soulja Boy.
All of the above is completely true — here's an example of how deranged some of the music he produced on the Japan only albums was.
[yframe url='http://www.youtube.com/watch?v=vn3psE2xkAk&feature=related']
Anyway when I was 14 I went to see him on his last tour. Before the gig I watched him eat a massive egg pie (quiche) by himself (party), really quickly (badman), through his tour bus window. The gig itself was more fun than getting stuck on a boat full of pissed, oily tarts and afterwards he came out to talk to everyone and do heroic things like leave people Andrew WK voicemail messages on their phones (no one had a camera phone back then, you had to be inventive to prove you had met a minor celeb).
So yeah, basically I'm pretty psyched about all this, and not in a bent postmodern ironic way, but in a genuine 'I love giddy great times' way and I think you should be too. Despite seemingly slipping into ignominy in these parts the UK, like any good elephant, never forgets huge bants and beer swilling mega times, as his three leg tour has had to be upgraded to accommodate the public demand for tickets.
This video for Jackass: The Movie is a halcyon reminder of a time when I thought delinquent morons were the coolest people in the world. The final chorus key change soars like a majestic party eagle. Enjoy.
[yframe url='http://www.youtube.com/watch?v=v9NYtvGQkjQ']