As we all know, Floyd Mayweather defeated Conor McGregor over the weekend in what was the most lucrative superfight in world history.
Featured Image VIA 
Both Mayweather and McGregor themselves made a pretty penny from the fight (reports are claiming $100 million for Mayweather and $30 million for McGregor) and then of course there were all the people who placed bets on Mayweather to win on the tenth round.
One person who definitely doesn't need more money, but at the same time was obviously going to place some big bets is professional poker player and international playboy Dan Bilzerian. We all knew that he was routing for Mayweather before the fight had begun, so it was inevitable that he was going to be putting big money on him to win.
Although we don't know exactly how much cash Bilzerian put into the bet, he showed off a check on Snapchat from the Aria casino cage for winnings of $342,150. What's even more frustrating is that this amount is probably just pocket change to him – some people get all the luck.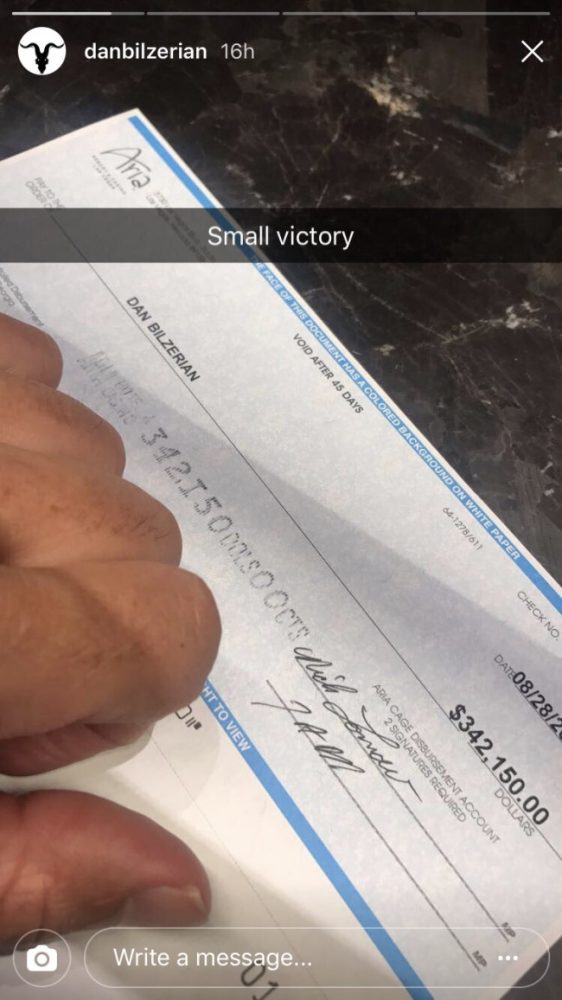 For more examples of Bilzerian's amazing luck, here's the time he won $1.2 million by smashing a ridiculous cycling bet.