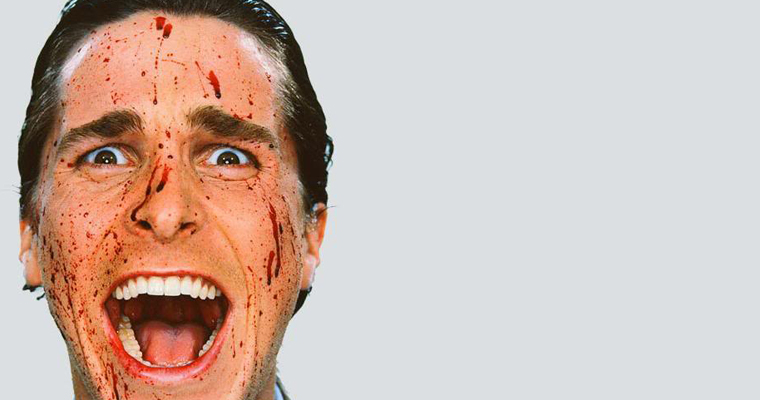 I appreciate that the average Sick Chirpse reader might not want to read all about the latest musicals that are making their way to London so I post this with subtle apprehension, but at the same time, fuck off.
Sick Chirpse's favourite Anti-Hero Patrick Bateman is back and this time Bret Easton-Ellis' psychopathic protagonist is going to be starring in his own musical in London. The musical has all ready run in America to mixed but mostly positive reviews and is set around the same 26 year-old Wall Street investment banker that Easton Ellis' novel was.
The musical has been written by Aguirre-Sacasa who describes it as, "One man's horrific, misguided attempts to connect with the world around him." At first it was a worry to think that they were going to take the character and splice him with a bit of Glee sentimentality and glam it up with a bit of Chicago attitude but ecstacy ran over me when I read how Aguirre-Sacasa hoped to, "theatricalize the violence in such a way that it packs a visceral punch without being completely grindhouse." So it might be hard for them to theatrically attack a woman with a chainsaw but there is a good chance that there might be a number about dissecting the vagina of a prostitute – shitting all over Nick Cave's recent prostitute video.
☛ More American Psycho: Is An American Psycho Remake On The Cards? 
[yframe url='www.youtube.com/watch?v=yiathMz7wFU']
Writer Aguirre-Sacasa, who recently penned the remake to Stephen King's Carrie (2013) went on to state that:
"To make sense of the societal chaos that's threatening to crush him and his friends. Patrick wants to belong, he wants to feel, he wants what we all want, on some level. But he is, to say the least, a deeply disturbed individual. With very few things keeping him tethered to the rest of the world we ('normal people') live in, as the musical begins, he loses one of those touchstones–his best friend, Tim Price, and things start spiraling out of control for him."
American Psycho is the story of an empty psychopath, a blank canvas of destruction who could mould himself to mirror the materialism and indifference of the superficial 80's. It was an insider's outsider look on how the rich, young and powerful alienated themselves from and perceived the world around them. But it was also a story of an axe wielding maniac who enjoyed nothing more than telling you for an entire chapter what made Whitney Houston and her vocals tick. The real sensation of this new musical will be if they simply go for out-there songs about the rampages of Bateman or whether or not they invoke a bit of Huey Lewis & The News.
☛ More American Psycho: Why The Hell Are They Remaking American Psycho? 
[yframe url='www.youtube.com/watch?v=xFtOcj6nyfg']
The creators have announced that the style to accomany the psychotic New Yorker's story will be "all electronic."  They went on to explain that nearly a third of the music will be comprised of songs that are directly referenced in the book and some others that would fit all so perfectly in the era that the book is set in. There are also songs like Barney's, You Are What You Wear, Cards, I Am Clean and This Is Not An Exit.
Here are a couple of ditties that the boys at Sick Chirpse hope will feature in the performance:
"Oops I fed a cat into the ATM, again."
"Why Don't You Get A Job…Before I Stab You Repeatedly, Tramp."
"Here's My Business Card, Call Me Crazy?"
"Unchainsawed Melody."
"Patrick, Why Are You Wearing A Rain Coat?"
"If You Don't Get The Blood Out These Sheets I Will Fucking Kill You."
"Christie, Get Down On Your Knees So Sabrina Can See Your Asshole."
"Did You Know What Ed Gein Used To Say?"
"Mergers And Aquisitions, Murders And Executions."
"Killing Me Softly (With His Axe)."

American Psycho will be making its way to North London in the Autumn of this year, and it is rumoured to be playing at the Almeida Theatre if you want to keep your eyes peeled. Maybe not as peeled as Bateman would like though.
Follow AMJ @amjeezie
☛ More Bret Easton Ellis: First Trailer For Bret Easton Ellis' Movie The Canyons