So the other day Alec Baldwin was accused of hurling racial slurs at a photographer. His response? "I only told her to choke to death."
☛ Check This Out: Saying Goodbye To 30 Rock
Let's make one thing perfectly clear: Alec Baldwin is awesome. But despite our bias toward the 30 Rock star and the fact that his general awesomeness warrants a lifelong arsehole pass, even we have to (begrudgingly) agree with the rest of the rational thinking world that his behaviour is pretty unacceptable at times.
Here's a rundown of Baldwin anecdotes and meltdowns. We'll try our hardest not to embellish them:
On The Best Moment Of His Life:
Baldwin told a story once about how he pulled up beside a taxi carrying a crew of noisy teenagers in the back. The teenagers noticed he was looking at them and started swearing. Did Baldwin back down from confrontation? Course he didn't – he caught up with them a few blocks down and threw his 32-ounce iced coffee through the window of the taxi, drenching the little shits in ice cold house blend.
"I went woosh and I threw it right into the window of the car. It went woosh and it was the greatest moment of my entire life. It literally hit him in the chest and the liquid went woosh, all over. I got all three of them and sprayed them with the coffee."
Inappropriate? Slightly. Awesome? Very.
On His Daughter:
In 2007, an angry voicemail Baldwin had left his 12 year old daughter was leaked online, in which he came across as one of those dads that will have you cowering under the bed while he goes ape shit on your mum because she burnt his toast or something. In the recording he goes off on his daughter for not having her phone on (typical), calling her a "rude, thoughtless pig" and threatening to fly into New York to "straighten her ass out". "I don't give a damn if you're 12 years old or 11 years old, or that you are a child," he says, "or that your mother is a thoughtless pain in the ass" (aha! The real issue reveals itself).
So while it may seem horrific to speak to your 12 year old daughter like that, let's put it into context a little bit. At the time, Baldwin was going through a messy divorce with his baby momma (Kim Basinger) and so it doesn't take a psychiatrist to figure out who his anger was really directed at. Secondly, dads get wound up and say shit like that all the time; it doesn't make him a bad father, just a bit of a mental one. His daughter shrugged the whole thing off as "no big deal", saying she called him back, apologized, and that was it.
☛ Watch This Next: Quentin Tarantino Has A Meltdown When Interviewed By Krishan Guru-Murthy

Check out the recording below:
On The Paparazzi:
Alec Baldwin doesn't like the paparazzi, that much is certain. In 1995, he was charged with beating one up. Over a decade later those pesky photographers are still grinding his gears, ruining a romantic landmark on the day he and his fiancée went to pick up their marriage license. One photographer got too close and caught a Baldwin fist to the face. Check it: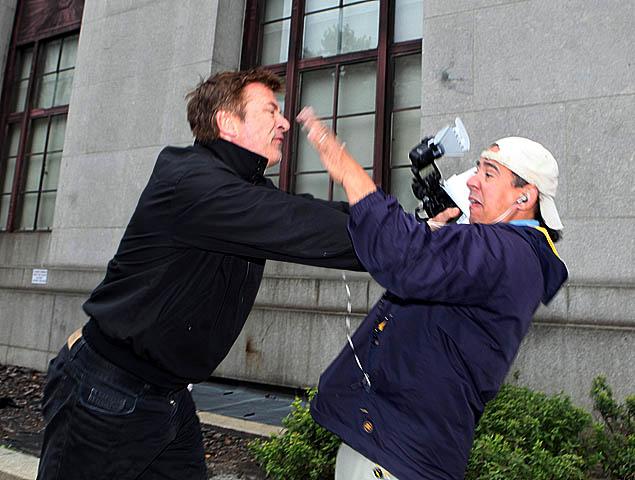 Then, last year, he was filmed manhandling a photographer while holding a pink stuffed animal under his arm. The pap cuts a pathetic figure under the towering Baldwin as he yelps "You're breaking my arm!"
☛ Watch This Next: Lil Wayne Rips On Lawyer In Leaked Footage
Baldwin appears to leave him be, but as he walks away the pap makes the grave mistake of calling after him: "We're only trying to take your picture!"
Baldwin gets back in his face and seethes "I want you to shut the f–k up and get out of here. I want you to get out of here. Leave my neighbour alone. Shut up."
The photographer promptly complies, and Baldwin spares him his life, but not before sneering "you little girl" at the defeated pap.
Check it out:
So if I was a paparazzo/unruly teenager/rubbish daughter I would definitely steer clear of Mr. Alec Baldwin. Maybe they should pick on his brother Stephen instead, who prefers to settle his differences with a good old-fashioned passive aggressive sing-song.