Remember a few years ago when Domino's launched a hot dog stuffed crust pizza and everyone was like 'whoa that's weird' but was kinda into it as well?
Featured Image VIA 
I'm not sure if Domino's is still doing that pizza – I haven't heard about it or seen one for a while so I'm assuming not – and thankfully this isn't what Aldi are doing either with their new hot dog stuffed pizza either. This isn't the only stuffed crust they're bringing out either as there's also going to be a sweet chili chicken stuffed crust and a cheeseburger stuffed crust as well. Wow.
You probably think that means that they're stuffing hot dogs, chicken meat and burger meat into the crusts of the pizza – I mean it makes sense – but they're actually those flavour pizza with a stuffed crust to match. This is what we're talking about: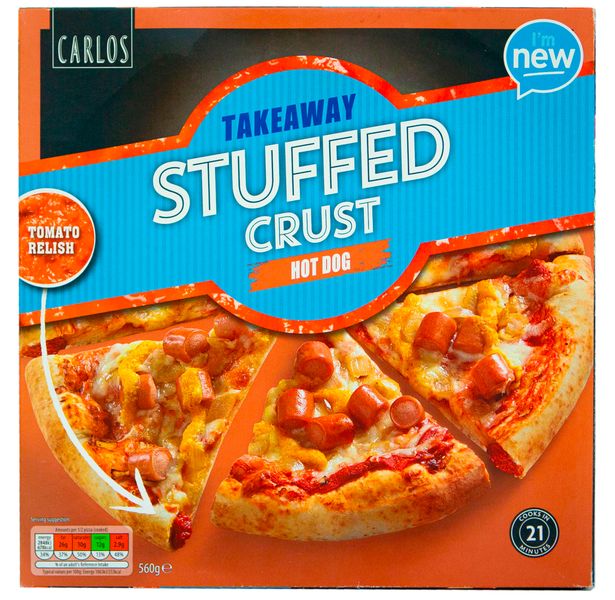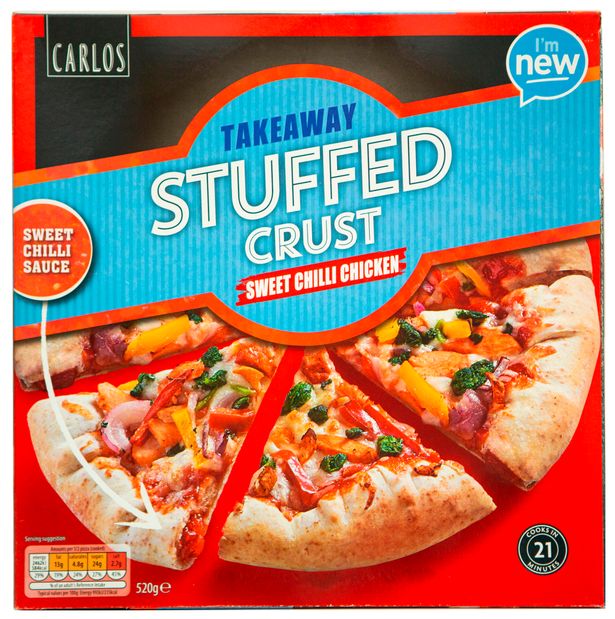 Hot Dog Stuffed Crust Pizza

Mozzarella cheese, tomato sauce, fried onions and sausage slices topped with a drizzle of mustard and accompanied with a tomato relish-stuffed crust.

Sweet Chilli Chicken Stuffed Crust Pizza

Topped with mozzarella cheese, spicy chicken, peppers, red onion and spinach and accompanied with a crust stuffed with sweet chilli sauce.

Cheeseburger Stuffed Crust Pizza

Topped with mozzarella cheese, tomato sauce, ground chilli beef, slices of gherkin, tomatoes and onion – all drizzled in burger sauce – and with a cheese-filled crust.
Images VIA
I mean they don't sound like the best pizzas do they? Why would you want hot dog meat on a pizza when you could just get pepperoni or sausage meat which is way better? The chicken one will probably be ok and the cheeseburger one may be passable, but overall I'm not that impressed.
Would be more excited if they were actually stuffing those weird meats in the crusts, but I suppose for £1.99 each you can't really be begging it too much. That's why you gotta love Aldi.
For more of the same, check out this pizza with a hash brown crust. Nom nom nom nom nom.