So the (fairly) surprising news broke early on Wednesday morning that Against Me lead singer  and all round hero Tom Gabel was set to start a new life as a woman named Laura Jane Grace. It was only last week I saw Tom Gabel play an acoustic set at Groezrock and was wondering why he had such long hair, when I used to think it looked way better on him short. I guess I know why now.
This was pretty unbelievable news and I really wanted to write something about it because Against Me! is probably one of my favourite bands ever – and this is probably mainly because of Tom Gabel's voice and songwriting – but I had to delay it until today because I had to drive back to Birmingham for the playoff semi-final last night which took up most of my day. So yeah apologies about the delay I know a couple of people have been giving us shit about posting stuff 'late' in the past couple of days.
Anyway, I didn't really care that much about the future of the band and whether Laura Jane Grace would be fronting it anymore or not. I mean they've written about 100 songs and I've seen them about 10 times (and even kinda supported them once OMFG fanboy alert) so I wouldn't have begrudged the band splitting up and Laura Jane Grace living the rest of her life anonymously as a woman somewhere in South Florida without ever revealing her desire to change gender to the general public. I was just stoked that Tom Gabel had decided to undergo such a huge transformation publicly and was in awe of his bravery in doing this, as he probably knew full well the possible media backlash that could follow from it.
I mean, if I had to make that decision, I don't think I could even tell my closest friends, let alone tell everyone in the whole fvcking world at the same time in an article in Rolling Stone. And even though the news is fairly shocking, I think it's even more shocking and ultimately incredible that Tom Gabel chose to do it this way as it will clearly raise a lot of awareness about transgender dysphoria and hopefully encourage a more tolerant attitude towards it in the future and for other people to pursue this goal. As Mike Shinoda from Linkin Park (who I'm surprised even knew who Tom Gabel was before yesterday) tweeted 'I don't think I could ever do anything as brave as what Tom Gabel is doing in my life.'
It wasn't only Mike Shinoda that supported Gabel's actions. Almost all of the response has been overwhelmingly positive too, which is awesome and I guess testament to the liberalism involved in punk rock/mainstream rock or even maybe just in certain sections of society in this generation. Sure there were some dumb jokes –  'Maybe they'll change the name to Against Men' and  'Pints of Oestrogen make you strong' being two of the best – but even those seemed at least to be in the right frame of mind and not plied with hatred. Countless punk fans and musicians – including The Gaslight Anthem, Itch from the King Blues and guys from The Swellers, Fake Problems, and The Flatliners have all banded around Laura Jane Grace's decision and been supremely supportive.
It's a cliche to say that Against Me! has changed people's lives but I know for a fact it almost certainly has as they have one of the most devoted and loyal fanbases around, and it might be an eve bigger cliche to say this, but it seems that Tom Gabel's decision to be so open about his transformation may very well change the world in terms of its views towards gender dysphoria. And that probably makes her even more punk rock now than when she was playing a basement show in Naples for three people, not getting paid for the show and then riding her bicycle home. Here's the first picture of Laura Jane Grace: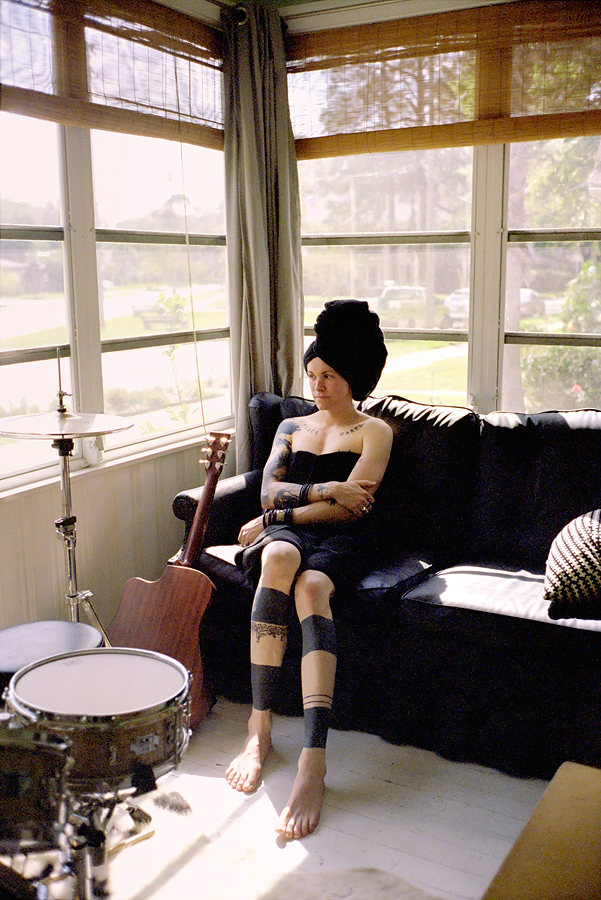 For those worried about Gabel's distinctive voice/growl being lost following her hormone treatments or whatever, apparently it seems that your voice only changes if you have procedures like tracheal shaving which whittles down your Adam's apple, so she should still be rocking out with Against Me! for a few years to come. And I imagine most of her fans will still be there too, given the reaction of the past couple of days. In short, that just straight up rules.
I listened to a bunch of Against Me! on the way home yesterday and this news only makes the songs even more intense and poignant (and they were pretty fvcking intense and poignant to begin with) as you can actually tell what he was writing about now rather than just guessing. Most of the mainstream press have picked up on 'The Ocean' as the song that best describes his desire to live as a woman – I mean it's pretty obvious when the lyrics are 'If I could have chosen, I would have been born a woman' – but other songs are pretty obviously about this as well.
'Searching For A Former Clarity' is written in the third person but details someone who used to dress up in women's clothing when they were young and then dying all alone in the future after living a life in which every relationship they had encountered was based on a lie – it was pretty intense at the time and seems even more so now – and the more recent 'Bamboo Bones' features the line 'what God doesn't give to you, you have to go and get for yourself' repeatedly which probably indicates her realisation that she had to finally come out and do it pretty soon. And what a way to do it. Here are those three songs below for you to check out: