Awful news breaking right now that AFTV legend Claude Callegari has passed away aged 58.
The lifelong Arsenal fan became known for his passionate rants on Arsenal Fan TV, and was best known for his iconic "It's time to GO!" catchphrase towards the end of Arsene Wenger's reign.
There's no word on what's happened just yet, but Claude sent out this worrying response to a Twitter troll yesterday: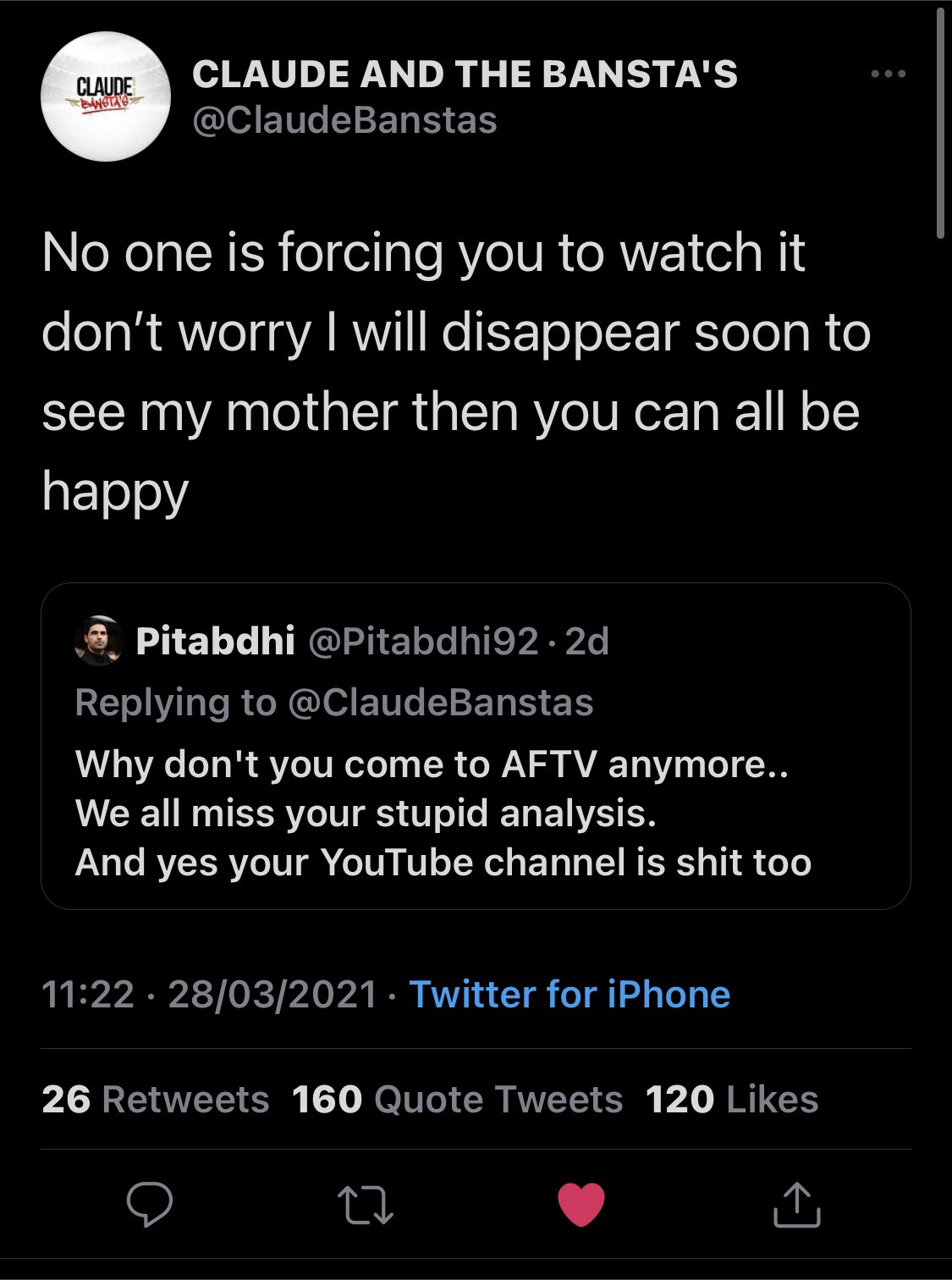 A statement from fellow Arsenal fans Terry and Diesel on Claude and the Bansta's read:
We can't believe we are writing this, with permission from Claude's father, it is with great sadness and a broken heart that we have to announce that our dear friend and legend Claude sadly passed away yesterday afternoon 29th March.
Here are some more tributes from Football Twitter and those who knew Claude:
You showed me love from the get go, made my misses feel comfortable when she came to events and always shows my kids love. I hope you are finally at peace godfather,

RIP Legend 😢💔👑 pic.twitter.com/4m8KsZhKNs

— The People's Champ 💯🤟🏽 (@TroopzAFC) March 30, 2021
Really sad news about Claude. A true YouTube and Arsenal fan legend – loved by many. May he rest in peace 🙏

— James B (@JamesAFTV) March 30, 2021
RIP Claude, absolutely devastated by the news, a proper passionate supporter and a genuine wonderful bloke who I had the absolute pleasure of doing content with multiple times, only 9 days ago we were doing preview shows for West Ham/Arsenal.
Life is too short, RIP my friend 😢 pic.twitter.com/Jb0Wj2bAvZ

— Dom ⚒ (@DOWHU_1995) March 30, 2021
Rest in Peace Claude the legend, was a lovely gentleman to have come across many a time over the years, love & light to his close ones ❤️

— VUJ (@DavidVujanic) March 30, 2021
RIP Claude. Lovely guy every time I met him and on football I always found his opinions genuine and from a place of pure passion for the club he loved.

— Mark Goldbridge (@markgoldbridge) March 30, 2021
This was always my favourite Claude interview on AFTV, just perfectly encompasses what an absolute gentleman he was and what Arsenal meant to him. Rest Easy Don ❤️🙏 pic.twitter.com/8IcgrOLgdd

— Out Of Context AFTV (@AFTVRelated) March 30, 2021
RIP Claude 🙏❤

Here's one of the greatest clips I've ever watched on aftv pic.twitter.com/uCpOvc5IVK

— Fiachra #LUHF 🇫🇷 (@F1_Fiachra) March 30, 2021
It was fairly well known on Football Twitter that Claude suffered from depression, and it's just tragic to think that any grief he caught online could have contributed to any of this. Also that this comes just a few months following the death of another AFTV regular – Heavy D.
Thoughts & prayers with Claude's family and friends and another stark reminder that social media companies need to do more to deal with the abuse and vitriol that people use their platforms to put into the world. RIP.