If you're a dude approaching mid-twenties something horrifying will soon happen. You'll start listening to Talksport.
Now that you're stuck in the rat race, Greg James' nauseating blast of flavour-of-the-month chart bullshit will either really get on your tits after a hard day's graft or it'll remind you that your student days are long gone and make you really depressed. Trust me, you'd much rather listen to two middle-aged blokes pick holes in irrelevant sporting affairs. This is because your iPod is broke and you don't own any CDs anymore.
Talksport has become a strange addiction. Anyone who falls into the same trap will become familiar with a certain Adrian Durham, who hosts the drive-time slot with prancing ex-cricketer and pie eating trendsetter, Darren Gough.
In a way you have to admire this guy, because despite looking like he works in Dixons and being stricken with the life-obstacle of ginger hair and glasses, he's managed to forge a moderately successful career as a sports pundit.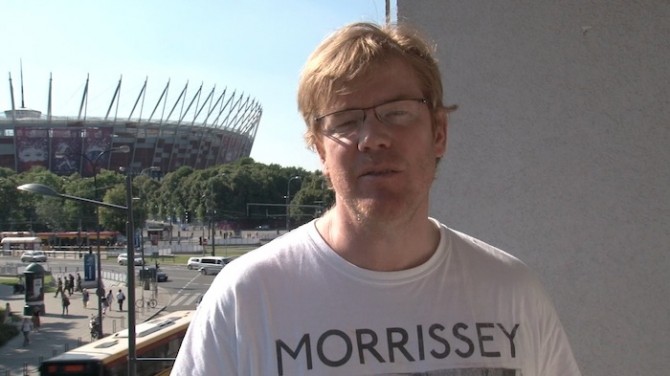 The annoying thing though is that Durham has achieved this without having any first-hand knowledge of professional sport and by basically just saying really stupid things to get a reaction. But in fairness to the guy, it looks like it's worked here so kudos, Adrian.
In the past he's pissed off Jamie Carragher by calling him a 'bottler', prompting England's only footballer who needs accompanying subtitles to call the show and have a go at him.
☛ Liverpool LOLZ: Liverpool's New Away Strip Could Be The Ugliest Football Strip Of All Time
He also wound up the Peteborough United chairman by insinuating he'd 'accepted relegation' by selling their star striker in the transfer window, conveniently overlooking the fact that the bloke is running PETERBOROUGH and they'd quite like the funds to keep their ground from blowing over in the wind, thanks.
I could go on but we'd be here all day.
I don't know why I'm surprised, but he said something really stupid this week fresh off the back of the US Open. I'm not even that bothered about golf – to be fair it's not something we feature regularly on Sick Chirpse but the pure idiocy of this comment is worth a shout alone. Basically some golfing analyst is on the blower and Durham sees fit to rekindle an old argument: "Do you remember when I said a hole in one is always a poor shot and I got laughed at… Did you see Stefani's hole in one? It was a rubbish shot and I've been proved right".
Going on to serve up some half-arsed justification about the ball missing the green and rolling in off a mound, I couldn't help thinking he was on the wind-up again. Last time I checked the point of golf was to go round in as few shots as possible but using Adrian's logic doing that is actually shit and you're just lucky, so there.
If you're yet to discover these pearls of wisdom then I've pulled out another gem from the vast archive to revisit. Here Adrian has a pop at Van Persie for scoring a penalty against Wolves whilst at Arsenal. Some fucking cheek these Premier League strikers.
[yframe url='http://www.youtube.com/watch?v=NHO-CWXDC6c']
Now, where's my mixtape for tommorow?
☛ More punditry fails:
Unbelievable Jeff! – Stelling Has A Shocker
Colin Murray Sacked From MOTD2 For Being An Irritating Little Snot