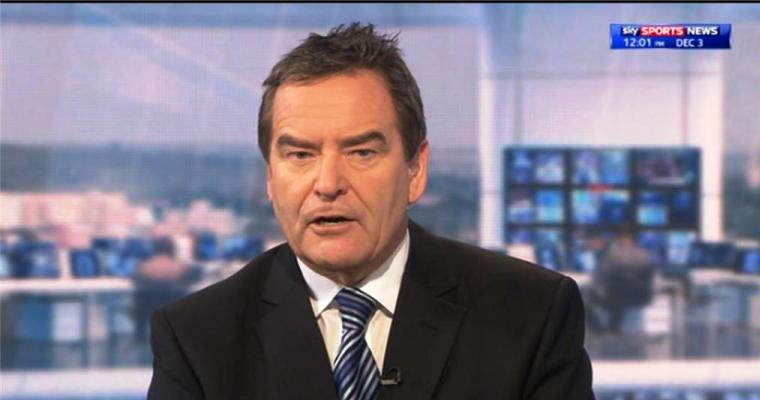 As the beloved host of Sky Sports News' Gillette Soccer Saturday, Jeff Stelling has gained a reputation as the seemingly well-informed and unbiased face of football; a man who knows all the scores and supports Hartlepool; the epitome of 'fountain of knowledge' who also happens to be completely disengaged from all things relevant in league football. Indeed, if you intentionally spend your Saturday afternoons watching the formulaic blunders and simplistic musings of mediocre pundits, Jeff's footballing opinion might even be one you revere.
If this happens to be the case, first let me apologise that your relationship with the beautiful game has become so bastardised that hearing a merry-go-round of score-updates seems edifying or enlightening. You live in an age where you can watch any game of football, live and for free, online. Why choose to watch Paul Merson watching that game instead? Especially when he'll summarise it with all the eloquence of a stroke victim -or more specifically, a stroke victim midway through suffering their first stroke. If Soccer Saturday is not just background viewing to you, but is instead a valued source of information and excitement, capable of holding your attention for hours at a time, it may be time to try one of the more autistic sports-viewing experiences. Like cycling. Go on, you'll enjoy it.
☛ Watch This Next: Cristiano Ronaldo Becomes The Italian Jeremy Kyle
Secondly, and more importantly, let me berate you for being the sort of person whose mere existence validates the decision to give Jeff Stelling a weekly column. Because if his latest offering is anything to go by, his strengths might just be confined to reading an autocue and remembering to check Chris Kamara hasn't distractedly wandered off mid-game. Fittingly, his 'Bale better than Ron' piece will make sense only to those who don't make a habit of actually watching football, exactly like Chris Kamara seems to spend his Saturdays on the job.  If it is not simply another example of the engender-controversy-to-generate-hits brand of journalism which has become nauseatingly common but a genuine attempt to make a salient argument, it may be time to disregard his opinion with those of the has-beens and recovering addicts who form his supporting cast.
Okay, Gareth Bale's rise to prominence has continued unabated for several seasons, and it would appear that calling him 'world class' is now fair, rather than merely hyperbole – providing you don't define 'world class' as being the best in the world, the best in the world in a given position, or even as being capable of getting into a team comprising the best eleven players in the world. It is also true that Stelling is but one of a multitude of journalists to contribute to the tedious documentation of Bale's progress, ever since that second half performance against Inter and a positionally unaware Maicon. But still, the grounds on which he makes his point that Bale is unequivocally better than Cristiano Ronaldo (taking the journalistic wankfest over the The Most Exciting Player In The Premier Leagueâ"¢ to dizzying new heights in the process) are ridiculous.
It begins; 'Bale is better than Ronaldo because he's simply unplayable'. Sure. No further explanation is required; the Welsh Messi is simply unplayable, and no qualification of that statement is offered. With insight like that, it's a wonder Stelling didn't have a crack at management. Meanwhile poor, playable Cristiano – having netted 24 goals in just 22 league appearances this season – will lose sleep knowing that, in one mazy run against a beleaguered Norwich City, Gareth Bale relegated him to the status of third best footballer in the world.
☛ Read This Next: Is Jeff Stelling A Racist? Presenter Makes Faux Pas Regarding Mario Balotelli Live On Air 
Jeff attempts to advance his point a paragraph later, stating that 'what Bale's got that Ronaldo hasn't is incredible strength and power.' In case you were wondering, that would be the same Ronaldo who, by a winger's standards, is notoriously strong, and who also happens to be 5cm taller and almost 10Kg heavier than Gareth Bale. Granted, Bale's shirt is tighter, and science says that makes his muscles look bigger, but that doesn't detract from the fact that Stelling is talking shite.
He ends the comparison by asserting that Bale is 'the reason why Spurs are where they are now – fourth in the Premier League.' True. Similarly, Real Madrid would not have gotten to where they did last season without Ronaldo, and ousting Barcelona to win La Liga might just be that little bit more impressive.
Jeff seems a likeable guy though, and manages to make an afternoon with Phil Thompson almost bearable. It's just a shame that, in trying to be intelligent, he loses all credibility.
☛ More Gareth Bale: Tottenham Succeed In Cloning Gareth Bale