After a couple of months of waiting – or six years if you're going back to the end of the series – El Camino dropped on Netflix and most people are fairly happy with the movie, saying that it provided an ending to Jesse Pinkman's story in true epic Breaking Bad style.
Images VIA 
Obviously there are gonna be some spoilers for El Camino in this article, so if you don't want to hear them then I suggest you stop reading. Following the conclusion of the movie, Jesse Pinkman has a new identity and hopefully a new life up in Alaska thanks to The Disappearer (RIP Robert Forster), but Aaron Paul himself has hinted that this might not be the end of his story.
Speaking to People, Paul stated that he would be up for playing Pinkman again in the future, but only if Vince Gilligan created another story for him: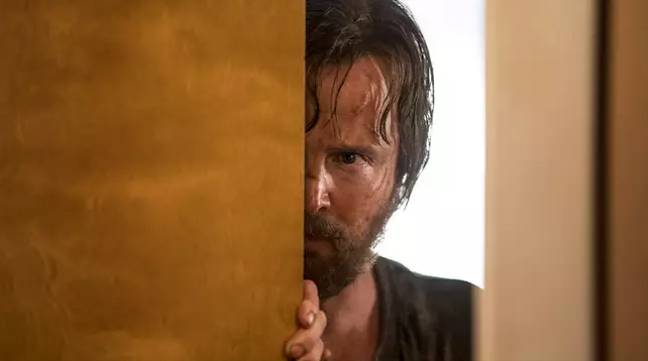 I thought I said goodbye to this guy so many years ago. Reading the script was such a beautiful homecoming.

It's up to Vince [Gilligan, Breaking Bad creator]. You know, Vince and I definitely plan on working together many times in the future and if it's Breaking Bad-related then great, if not then so be it.

If he wants to dive deep into this again then I'm all for it.

This was the exact ending I envisioned. Years ago, when the show was wrapping up, I was always hoping that Jesse would find some sort of inner peace and find a peaceful setting to call home and escape the chaos.

I think – I hope – that he has found that.
I mean I'm not really sure if Pinkman really needs anything else to happen to him after he made it out of El Camino in one piece, but maybe Vince Gilligan does have some ideas for him. Seems to me that this was the perfect bookend though and they don't really need to go back and see him again. Only time will tell though I suppose.
For more of the same, check out Aaron Paul answering a whole bunch of questions about El Camino. Get pumped.