If you haven't seen the Netflix documentary 'Killer Inside: The Mind Of Aaron Hernandez', you should get on it. Even if you're familiar with the story and all the terrifying and fucked up details, it's an insightful look at the life of an extremely complex individual given from the perspective of people who knew him best.
Featured Image VIA
One person we don't hear from in the documentary though (despite plenty of audio/footage of her) is Aaron's wife Shayanna Jenkins-Hernandez. She declined to be a part of it although she always insisted on his innocence, but it would've been great to hear some more of her thoughts on the situation.
Well this week, Shayanna appeared on Good Morning America and of course like the ride or die bitch she is she doesn't incriminate Aaron Hernandez in any way, but she does offer her thoughts on his sexuality and the reports from the documentary that Aaron had gay relationships:
The fiancee of the late Aaron Hernandez is speaking out for the first time since the release of a Netflix new docuseries on the life of the football-star turned-convicted killer. @arobach reports. https://t.co/fu296hhrc3 pic.twitter.com/KuQtG0ctWI

— Good Morning America (@GMA) January 29, 2020
Well it's pretty weird seeing her portrayed as a sympathetic figure here especially as she helped him cover up his crimes and ultimately chose his side over the side of her sister whose fiancee Hernandez murdered. I think it's pretty obvious she knows he's guilty and there's a bit of a tell when she answers the question of his innocence by saying "I'd be a cold person to leave someone who had nobody at all." Doesn't that imply the reason she stuck with him is because she felt bad for him, rather than that she truly believes his innocence?
Anyway, she does have a point re the discussion of Aaron Hernandez's sexuality in the documentary. In the show Dennis Sansoucie, one of Aaron's high school buddies, claims they were intimate with each other but were both afraid of admitting it. Maybe he really was gay and ashamed of it? Maybe this shame screwed him up for his entire adult life?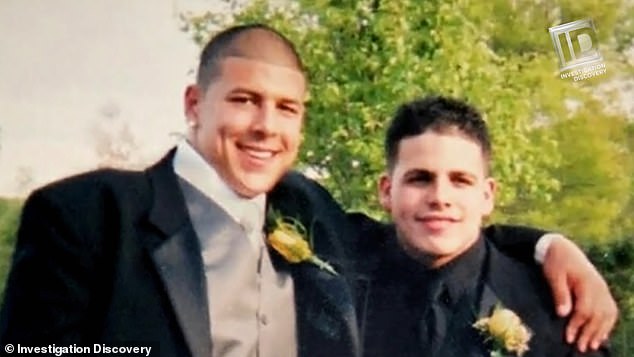 Again, not easy to see Shayanna as a victim here, but you've got to feel for their 8-year-old daughter who is going to grow up and learn her father's story one day. Good luck to Shayanna when it comes time to have that conversation.
For a closer look at the documentary, click HERE.