If you've ever faced eating 8000 calories in one meal – that's more than 4 times the recommended daily amount for women and three times the recommended daily amount for men – then get yourself up to the George Pub and Grill in Stockton where you can purchase the 'Parmo Kebab'.
Images VIA
If you've never heard of a parmo then some might say that you've never lived, but it's a signature dish up in Middlesbrough that's basically like a pizza on a piece of breaded chicken. It's as delicious/gross as it sounds.
The parmo kebab takes it up another notch though. For the price of just £13.95, it's two massive parmos filled with kebab meat. Due to the number of calories contained in the sandwich, you actually have to sign a disclaimer before you eat it promising not to sue the pub if you have a heart attack. If you show signs of heart failure whilst eating it though, then they will drive you to the nearest hospital. Nice of them.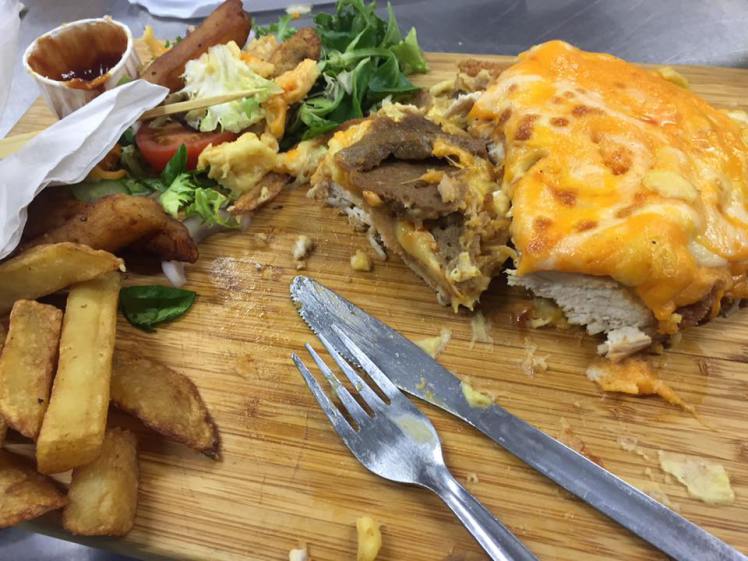 Bar manager Craig Harker said the following about the parmo kebab:
If anyone has a heart attack after eating the meal we'll pay for a taxi to the hospital.

And if they do pop their clogs whilst eating it, we'll chip in on the headstone.

The dish has gone down very, very well.

Looks can be deceiving. For example, here the sandwich looks pretty normal – but it is packed with just so many carbs.

It only really takes 10 minutes to make – so we usually get them out pretty quick.
Probably need to get them out quick so that people don't change their mind when they realise the hell that they're about to be putting their bodies through. Still, it sounds like a good once in a lifetime meal – unfortunately I can't see myself travelling up to Stockton to try it anytime soon. Maybe one day though.
For more kebabs, check out the most expensive kebab in the world. And it's available in London.