Eyebrows are always going to be raised when a 21 year old woman marries a 74 year old man, but Milijana Bozic was hoping that her participation on Serbian reality TV show would give her a chance to prove that the love between her and husband Milojko was the real deal.
Images VIA
Unfortunately, it hasn't turned out like this at all as Milijana has repeatedly found her selves in compromising situations with other male contestants on the show. First she admitted giving and receiving oral sex from another contestant and now she has been caught in the shower with a 60 year old man by her husband.
Here's what Milojko said when he made the discovery: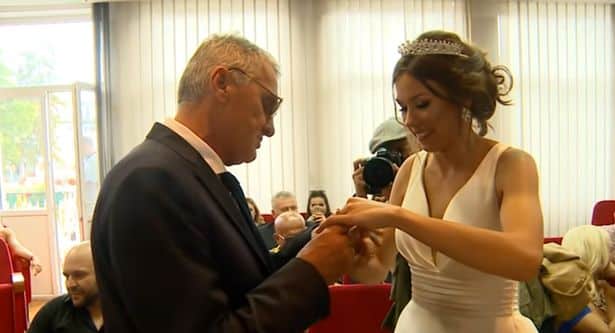 You should see a psychiatrist! Were you having sex? Yes, probably. You should be ashamed!

He asked her to go with him to the shower and she refused.

I went to sleep, but, wanted to check one more time, he was inside the shower, and she was outside in a towel!

Then she joined him.

If you set it like this, our conflict will continue after the reality show.

She's playing me and is making a fool out of me.

This is not a game this is real! Milijana is playing both of us.
I mean Milijana sounds like a stone cold minx doesn't she, messing around this old man who clearly seems to be pretty into her. I think you've gotta be deluded if you're 74 and think that a 21 year old hottie like Milijana wants to go out with you though – it's pretty obvious what she's after.
Anyway, I'm sure 'Couples' is probably the highest rated show in Serbia after episodes like this. I would say that I hope Milijana and Milojko sort it out, but there's really no way that that's ever gonna happen so I'm not even gonna bother. Stay tuned.
For more of the same, check out this story about an elderly couple that accidentally delivered $5 million worth of meth. Busted.