We reported last week in somewhat surprising news that 50 Cent had filed for bankruptcy. I'm pretty sure that before this we all figured that he was an absolute baller considering how he always braps around in da club in sick clothes with expensive jewellery, but it turns out this was actually one of the sickest displays of image crafting in history and he can't actually afford any of the stuff that he's often pictured with.
His fortune – which was estimated by Forbes to be $155 million in May – was actually only a paltry $4.4 million. I mean that's sure a lot compared to you and me, but it's kinda pathetic when you think how rich you thought 50 Cent was a week ago. This has all come out due to the sex tape ruling recently in which he was ordered to pay $5 million in damages to Lastonia Leviston, whose sex tape with rival rapper Rick Ross he leaked without her permission. Turns out when you're only worth $4.4 million and not thirty times that much, then something like that might end up bankrupting you.
50 was there yesterday to testify to that tune in a federal court. He admitted that his lifestyle was a complete fabrication that he made up to sell records and that he was nowhere near as flashy and as rich as he made himself out to be, even stating that most of the cars and jewellery he posted on his social media accounts wasn't even owned by him and he would just pose with the items to look like a hi roller and then take them back to the stores. I don't know about you, but that pretty much made my morning – absolutely pathetic eh? Although I suppose it did sell him a few records, it ironically wasn't even enough to fund the lifestyle he was depicting.
(Plot twist – is 50 Cent just blagging this shit to get out of paying the $5 million fine?)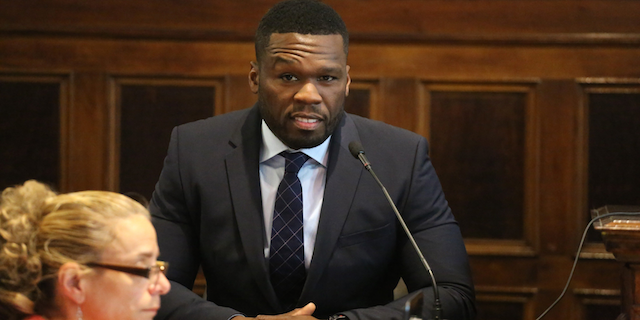 Images VIA 
When asked by the judge to explain how he could be so poor (lol), 50 Cent explained that he only made ten cents per record of his 38 million album sales, only received $100,000 for each of his recent movie roles in Southpaw and Spy and that he only received $150,000 for his executive producer role for each of the first two seasons of Power. He did admit to recently buying a Rolls Royce, but revealed that he had to take back two others cars to the dealership in order to pay for them. 50 Cent huh – just a regular Del Boy by the sound of things with madcap schemes like that.
The best quote of the testimony had to be the following though:
I'm worried that my brand has been tarnished because of the bankruptcy filing last week. Now that I filed for bankruptcy, I'm not as cool as I was last week.
Well yeah, no shit of course you aren't – everything your brand was built on was a complete and utter lie and and in the grand scheme of things you aren't even half the baller you made yourself out to be. Probably not even one thirtieth actually.
50 is desperately trying to get out of paying the $5 million to Leviston and doesn't believe the damages should be that much and he was unfairly taken advantage of because of his perceived wealth, even though he's been creating this perception for years. No news on how the judge is gonna call this one, but we'll let you know when it happens.