When it's your hen do, you probably want to treat yourself and your hens to a really expensive meal at a swanky restaurant, and bride to be Melissa Grogan-Morgan was no different, inviting 17 of her close friends and family to the highly rated 47 King Street West in Manchester.
Unfortunately the meal was from ideal, and this caused Melissa and another member of the party Lynsey Herron to leave negative reviews and comments of it on the restaurant's fan page. The response they received from the restaurant was absolutely unbelievable, as it refused to take any responsibility for its failings and instead went on the defensive and started to completely rinse the hen party and its behaviour – without any real justification to it must be said – in full view of the public.
Obviously they've never used the internet or social media before because it would seem obvious to anyone who knew about anything that it was only a matter of time before websites like this one latched onto the whole incident and posted it in its entirety for everyone to see. So without further ado, here we go with the meat and bones of the response (these are all photos as the originals have been deleted):
Featured Image VIA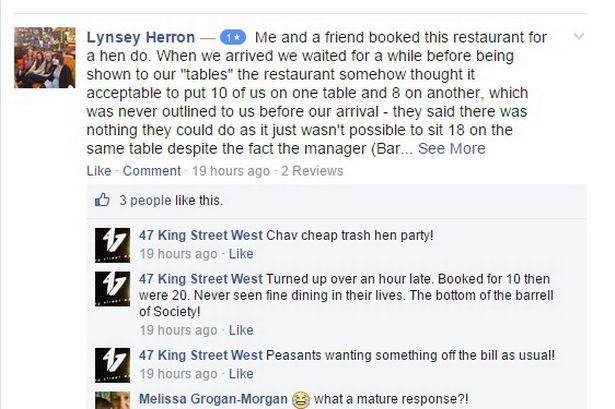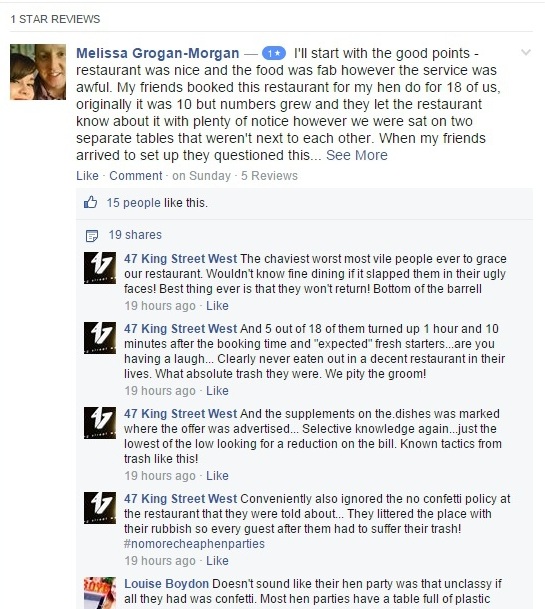 Wow. I would suggest they get a social media manager in ASAP and didn't let the angry manager who got dissed run the social media account. Although after this it's unlikely that he'll even be working there anymore I suppose.
The whole incident is reminiscent of Amy's bakery from Ramsay's Kitchen Nightmares, which was guilty of the worst ever Facebook brand meltdown a couple of years ago. That makes this look like a walk in the park.