They say Valentine's Day is particularly hard when you're single, but I don't think any of us are having quite as hard a time as the guy in this article who has decided to tell the world that he's celebrating by having a threesome with two ghosts. Come on pal.
Images VIA
35 year old Gary DeNoia is a hotel worker from New Jersey, who claims that he's been in a relationship with a spirt for the past two years and was only too eager to reveal to The Daily Star Online that they were planning on celebrating the Big V by having a threeway with another ghost. Why not hey?
Here's what Gary had to say about the situation: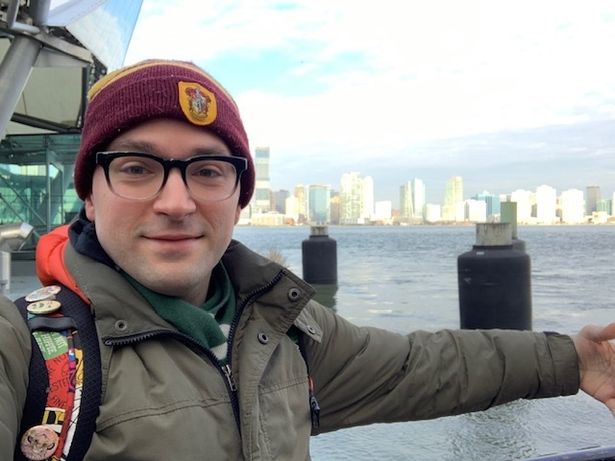 We both think that going out on Valentine's Day is overpriced and overrated. We have a tradition. The night we make popcorn and ice cream sundaes.

Then we watch our favourite movie, which ironically is Ghost. I know… we're so corny. We can't help it. Afterwards we make love on a bed of roses. The roses stay on the bed when we go to sleep, so we wake up to the smell of flowers.

This year we're getting kinky. We're going to have our first threesome. Lisa has recently befriended a female spirit and I thought it would be fun to bring her over and spice things up.

I've never had one before. Not even with two living women. I'm a little nervous, so needless to say there will be a lot of wine involved to loosen me up.

And it was Lisa's idea for the threesome. She's confident in the way I feel about her and we our both very sexual and know we would be comfortable having sex with another spirit without any emotional attachment.

Her only rule is she doesn't want me kissing her friend Sadie, which I am totally okay with.
Lol wut? When you write about stuff like this you don't really know whether to laugh or cry really do you? The thing I always say is that even if this guy is having sex with ghosts (spoiler: he isn't) then why the hell is he talking to newspapers about it and telling the whole world about it? It's not gonna normalise it – it's just gonna make everyone think that he's a sad lonely little loser with weird masturbatory habits and possible brain damage/mental health problems. Get some help man.
Maybe I should be having more of a go at the guys from Daily Star Online though, who probably just hit up Gary and throw him £100 or whatever whenever they need some clicks. Take the guy to the hospital man, although I suppose I'm no better.
For more of the same, check out this woman who said the best sex she ever had was with a ghost. It's called masturbating love.