Handwritten letters are kind of like a text message or e-mail except you have to write the ENTIRE message onto paper yourself and send it to the person in an envelope. Sounds long as hell, but in the days before mainstream Internet you didn't really have a choice.
In this letter to his friend Big Lock, Tupac discusses plans for a collaborative album that would have featured rappers from both the East and West coast, effectively squashing whatever mindless tension existed between the two that ultimately led to the deaths of Biggie and Pac himself (not to mention countless others):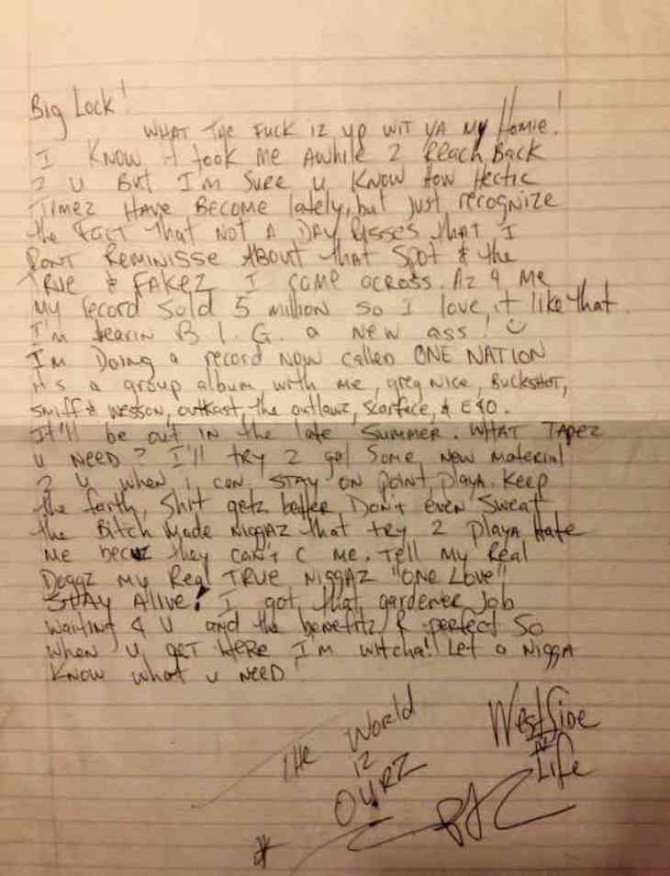 There's no explanation for why the album never happened, but Questlove from The Roots has confirmed the letter is real because Pac contacted him about the album as well.
In addition, these two letter were released from his time in prison for sexual abuse charges in 1995:
In other Pac news, a recent interview with a policeman at the scene of his murder in 1996 revealed the last words Tupac said before he died – and they couldn't be any more perfect.