Remember a week or so ago – man it seems so much longer since we've been in quarantine huh? – when a bunch of spring breakers became the most hated people on the internet after they said in interviews that they didn't care about Coronavirus as long as they managed to enjoy their spring break? Well, a whole bunch of them have got Coronavirus.
Featured Image VIA
OK this isn't technically true – that interview was conducted in Miami and the guys in this story travelled from Texas to Cabo San Lucas in Mexico – but it's pretty much the same thing right? The spring breakers chartered a 70 person flight from Austin to Cabo San Lucas last week for their little party trip despite government warnings against international travel and you can imagine it can't really have gone worse for them after 28 of them tested positive for the virus.
In fairness to them, their trip was booked through a company named JusCollege who advised them that it was non refundable as Mexico had far fewer cases of COVID-19 than any other country: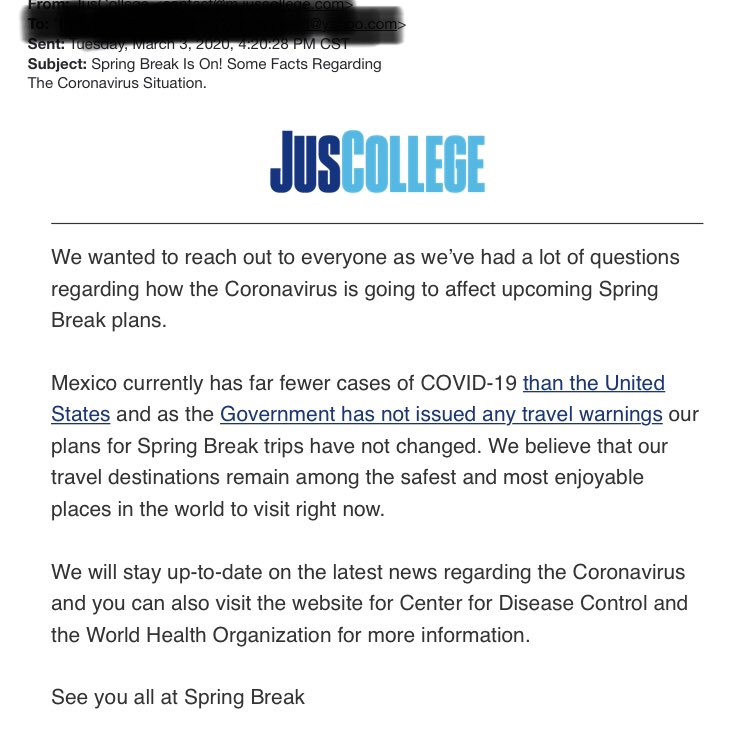 Yeah, I think if I had spent I dunno say $400 on my Spring Break trip and there was no way I was going to be able to get it back then I probably would have ended up going as well if my country wasn't on a strict lockdown and I didn't understand the risks. Really gotta look at the travel agent being more responsible here.
Hope that none of the students end up dying because of it, but by the law of averages you've gotta think that they'll be indirectly responsible for at least a few deaths because of their little trip because of the way the virus spreads. Stay home idiots.
For more of the same, check out these photos of Spring Break in the 1980s. A simpler time.