A long time ago we announced that London was planning to make the tube 24 hours at weekends and it seems like it's creeped up on without us even noticing, with the first 24 hour tube stations set to open in September. This is pretty great news because it means you won't have to get three really slow night buses or an Uber when they're price surging to get home at the weekend and should save everyone a lot of money. In fact I would say it's something that the tube has been crying out for for years to be honest.
Of course the question on everyone's lips was which lines and which stations were actually going to end up being 24 hours at weekends. Now, the London Underground has finally moved to answer these questions by releasing the first ever 24 hour tube map, which you can see below (click on it to enlarge).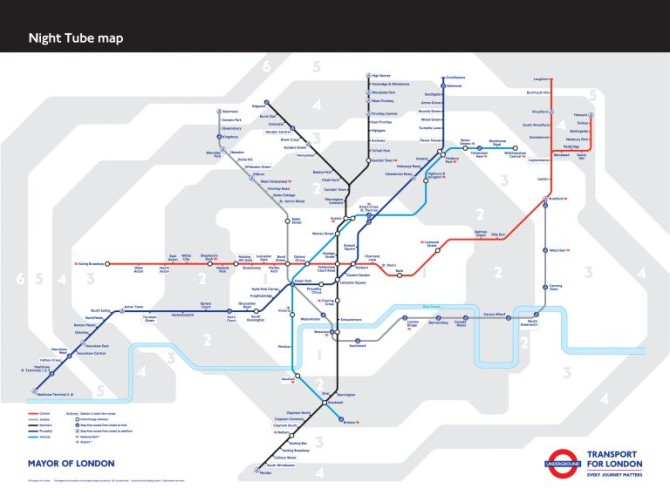 Image VIA
If you can't be bothered to click on the map then here are the basics – which sound like a pretty sweet deal to be honest. For me anyway, I don't know where any of you guys reading this actually live:
Central line: Trains will run between Ealing Broadway and Hainault
Jubilee line: Trains will run on the entire line
Northern line: Trains will run on the entire line except on the Mill Hill East and Bank branches
Piccadilly line: Trains will run between Cockfosters and Heathrow Terminal Five
Victoria line: Trains will run on the entire line
Of course, the train drivers aren't happy about the fact that they're going to have to work late nights/early mornings now (even though they get a better deal than doctors in terms of cash to time worked ratio) and have decided to kick up a fuss about it and plan a strike over this new initiative, even though they've had over a year to try and figure something out about it. Here's what Finn Brennan, district organiser for train drivers' union Aslef had to say about it:
It's easy enough to produce a map, but if London Underground management want to have an all night service in September, then they need to sit down and negotiate a fair deal for the staff they expect to provide it.
Fighting talk. I'm willing to bet it'll roll out fairly smoothly though, and there will probably only be the threat of a strike over it. Here's to running into more of these London underground dickheads at ridiculous hours of the morning.