A college student who hopes to graduate without debt by selling $1million dollars worth of internet advertising and billboard space is now making $20,000 weekly.
19 year old Richard Wilson of Bangor, Northern Ireland – who will go to UCL in September to study business informations systems and is currently attending college in Belfast – launched http://milliondollarbillboard.club two weeks ago on which he sells pixels of a billboard to companies and has now generated approximately $41,300 since its launch.
The idea is simple when you think about it, companies choose from the one million pixels on the site and buy their own for one dollar (65p) each. This will then be transferred onto a huge advertising billboard in twelve major cities once the billboard is complete. It gains the brand international recognition and also enables them to be a 'part of advertising history' as Richard assures us it will be 'the biggest billboard in every city'. Customers can place advertising logos on the purchased space, linking web users to their own websites.
If his site succeeds, Richard should leave college with $1m (£649,400). So far he has sold 41,300 pixels of the billboard and generated $41,300 dollars in two weeks which works out at a cool $20,000 a week.
Images VIA
The concept that is making Richard very rich at the moment is not new. There have been many different online sites over the years that have sold pixels on their site but Richard has used this idea to create something unique and beneficial towards businesses. The idea came to Richard when he realised that he wanted to start generating an income in order to fund his large university costs and he thought this was the perfect way in which to do it, although he's surprised by how quickly it's took off and how busy he's become because of it already.
Richard was seen in London last week scoping locations for his billboard, which will eventually be a massive 100ft x 100ft size located in prominent positions in 12 different major cities including Moscow, Rome, Sydney and New York. He's still in disbelief about it all, but hopes to eventually put the leftover money he has from the project into starting some kind of non profit organisation – after he finishes university of course. You can also see what the billboard looks like at the moment below: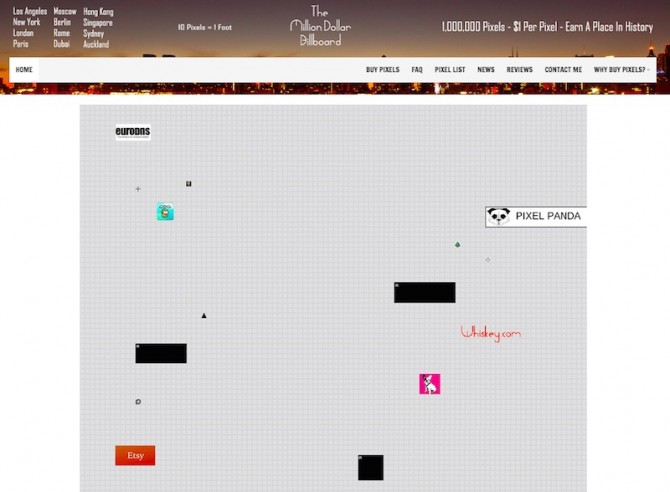 I don't believe it, It doesn't really sink in, doesn't make sense. I think for a long time I am going to be in shock! The rapid growth of my income over the last two weeks is insane. Even to have earned over $5,000 on one of my websites is just unreal!

A person purchasing 8,000 Pixels is just unreal. That's $8,000 in the space of 10 seconds.It's a lot to take in.

With the money left over I hope to build a non-profit organisation after university where I can work as a trustee but a lot of the money I earn will go back into providing a high quality service for customers that purchase pixels, especially using the money to pick the best locations for the billboards.
According to teachers and friends, Richard has been a very hard worker and has had a very natural entrepreneurial outlook on life, so it's no surprise that one of his businesses has finally taken off. His friends mention how he has had hundreds of online businesses, although none of them have been anywhere near as successful as this one – Richard himself has even joked about having a website up that only received five customers in the last three months.
Analysts believe that the $20,000 a week that Richard is earning will only increase on a monthly basis as the site becomes more popular, although he will only be able to generate $1million from it as that's all the space he'll be able to sell. We have to admit though that the income Richard generates from this will be well deserved – it is a very creative idea and I am thinking about just uploading a picture of my face for all the world to see – I mean it would only cost 65p for one pixel after all.
Someone sent this story in to us, and it does seem a bit suspect that it hasn't had more coverage. Still we have no real reason to suspect it's BS until shown otherwise.
Either way, can Richard honestly say he's as much of a G as this 13 year old who's set to become a millionaire after making an unbelievable product out of LEGO? Debatable.