An 18 year old boy has been arrested by the authorities for stealing a piece of Paul Walker's Porsche from the tow truck that was transporting it away from the crime site after he posted pictures of it on Instagram, which is kind of a rookie error.
The cops showed up at the house of Jameson Witty in Canyon County, a suburb of LA, and after searching around his house and discovering a roof panel from Walker's Porsche, the cops took him into custody. Unbelievably, TMZ.com somehow seems to have footage of Witty running up to the pick up truck with another currently unidentified man and grabbing the panel off the top and then sprinting away. I don't know how the hell they managed to have a camera following the tow truck that was transporting the wreckage of Paul Walker's car away from the scene, but then this is TMZ.com so it perhaps isn't that unbelievable because they seem to have cameras positioned almost everywhere in the world and manage to catch the most ridiculous things ever. They've definitely got their finger on the pulse.
---
Although the people filming that TMZ video – who seem to just be sitting in a car, following the tow truck which sounds like one of the worst jobs ever – seem pretty angry about Jameson stealing the panel (the title of the video even describes him as a scumbag) but it seems like his intentions were somewhat pure and he wasn't just trying to hawk it or bragging about owning it as he posted this on his Instagram account last night.
Of course, this could just be a rapid turnaround to try and make the whole world think he isn't a prick since he got arrested, but his choice of words do seem to suggest that there is a lot of sentiment behind this apology and it's not just a load of bullshit. He's since deleted the pictures of the roof he put on his Instagram.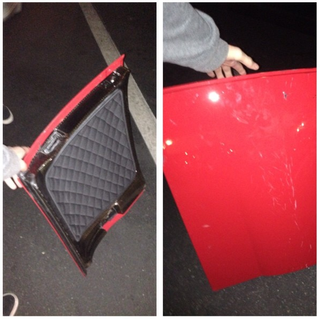 ☛ More Stealing: Teenager Arrested For Stealing Dwarf Porn