One of the worst things about sleeping in a bed with someone is probably that – sleeping in a bed with someone. There are so many problems that can occur – snoring, moving around, nightmares, sleepwalking – that you might not even get any sleep by the time you get out of it.
Featured Image VIA 
Thankfully, there are a few solutions to this problem aside from breaking up with your partner or sleeping in separate beds and the latest one of these comes courtesy of ASDA and is only going to set you back about £12. The Silentnight Anti Snore Pillow has the following item description:
This Anti Snore pillow from Silentnight has an ergonomically designed foam core to position the head in such a way as to minimise snoring.

In tests, 8 out of 10 users reported a reduction in snoring.

The foam core adds support and ensures the pillow retains its shape.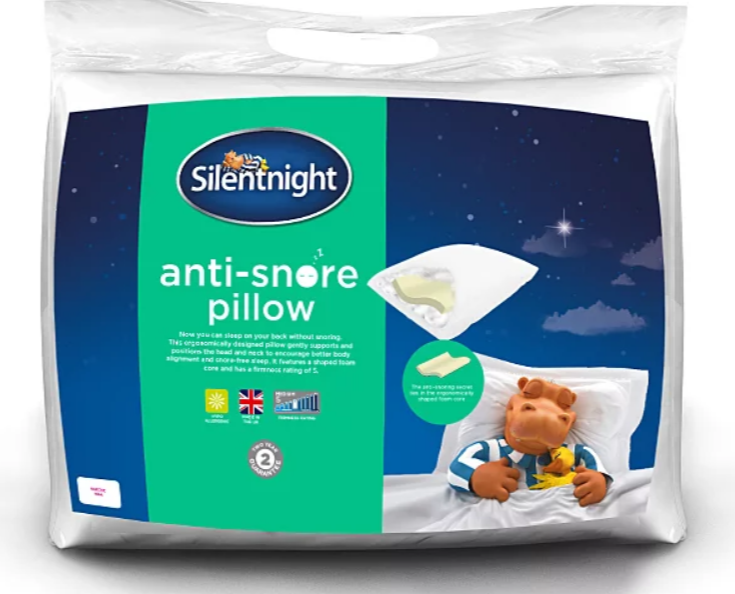 Yeah I don't really know what any of that means but it sounds like it could work, and for £12 you haven't really got much to lose so you might as well give it a shot? It's also endorsed by the British Snoring and Sleep Apnoea Association who gave it a rave review, saying the following: 
Replacing our old duck feather pillow with the Silentnight Anti-Snore pillow had an instant effect.

It was immediately clear that there was a significant improvement in both snoring frequency and volume.

The shaped foam core and medium foam core and medium firmness contribute nicely to the overall feeling of comfort.
Yeah I mean with a review like that from the experts you probably should roll the dice and give it a go if you or your loved one have a problem with snoring. Sounds like it's the cheapest solution out there.
For more of the same, check out the ultimate guide to stopping snoring and getting a good night's sleep. Might be worth having a look at that before buying the pillow to be honest.