There was a time and a place where EDL rallies would attract a whole swath of people and they would tear around the city, starting fights and breaking stuff and generally being belligerent.
Images VIA
Thankfully, it seems like those days are dead and gone judging by the paltry rabble that showed up for an EDL march in Piccadilly Gardens in Manchester over the weekend. It looks like about ten people showed up and were flanked by about three times as many police officers as they went about their pathetic little march around the city. Embarrassing.
Here's what a spokesperson for the police had to say about the event: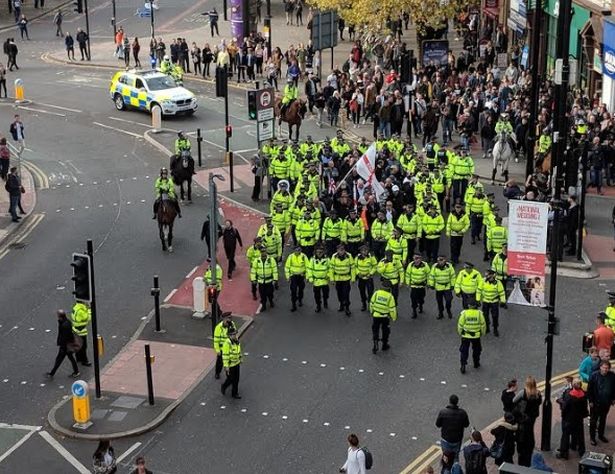 In the lead up to this event, we worked closely with the organisers and our partners at Transport for Greater Manchester, Manchester City Council and British Transport Police to reduce impact on the public and minimise the risk of disorder.

I am happy to say that the overwhelming majority of people who exercised their democratic right to protest have done so peacefully and the demonstration has passed with little disruption.

There have been two arrests, which is not uncommon for an event of this size.

There is still a major police operation in place to ensure the rest of the day continues in the same manner, and all of the other events happening in the city run smoothly.
Yeah fair play to them for sorting it out, although it does seems like a gargantuan waste of the taxpayer's money when stuff like that is happening. But hey I suppose it is better than the whole city getting trashed and fights breaking out which is what used to go down during these events. Maybe there's hope for the country already when EDL rallies are so sparsely attended? Maybe.
For more of the same, check out this blogger starting an EDL parody group and getting Tommy Robinson himself to endorse it. Jokes.