We've been talking about the possibility of a third Bill And Ted movie almost as long as Sick Chirpse has been a website, but it looks like we might finally be getting some way to actually seeing the end results if this update from writer Ed Solomon is anything to go by.
Images VIA
Ed Solomon wrote the original Bill And Ted movies and has been developing the third one for the past ten years and it looks like his hard work might finally be paying off. Here's what he had to say in an interview with Digital Spy, revealing that the movie will be called 'Bill And Ted Face The Music' and how they plan to get around the problem of George Carlin being dead and unable to reprise his role as Rufus: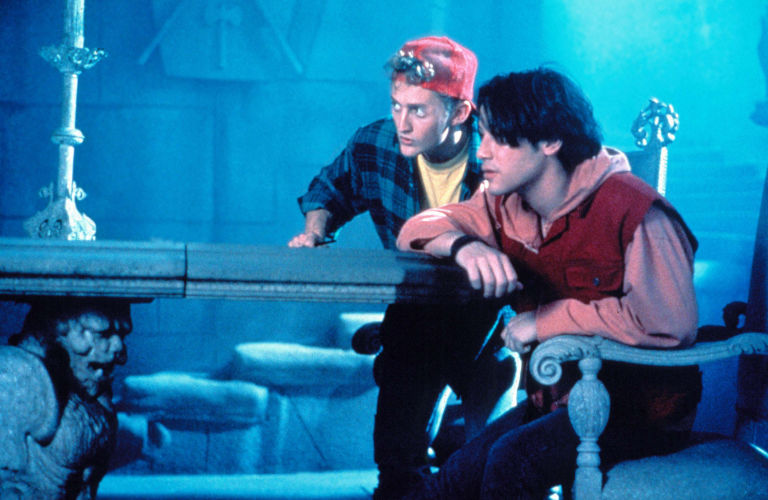 We have been working for almost 10 years to get this thing made; Alex Winter, Keanu Reeves, Chris Matheson, me… we have a director – Dean Parisot, who did Galaxy Quest – Steven Soderbergh is one of our producers. We have a wonderful assembly of people.

We have a script that we really are proud of, that we worked very hard on, that we've done many iterations of – and we did it on spec, meaning we spent years working on it because we wanted to get it right, creatively.

This is not, 'Hey let's all cash-in on the Bill & Ted thing for money' – this is the opposite. This is, 'We love these characters, they've been with us for our whole lives' – Chris and me, and Alex and Keanu – and we wanted to visit them again as middle-aged men. We thought it would be really fun, and funny, and sweet.

We really think there's another movie to be done that is the opposite of cynical, that is actually made with love. [It'll be] made with love and affection for the characters, and affection for the fans of Bill & Ted. All of us really want to give the people who love Bill & Ted, and people who haven't even discovered Bill & Ted yet, a movie that is worthy of their affection. And we're trying!

George Carlin is so deeply missed by all of us. There is a… not just an homage to him, it's more than that. His absence is a part of the whole movie.

There's actually a scene – one of my favourite scenes in the whole movie – where middle-aged, 50-year-old Bill and Ted return to the Circle K and see their teen selves and Rufus, and actually interact with their teenage selves, played by their actual teenage selves.

They return to that scene at the Circle K when Bill and Ted first meet themselves, only now they're watching their younger selves and looking at the exuberance and joy that they had at that time in their lives. And they see Rufus, they see George Carlin…

There's also a character in the movie named Kelly, which is George's daughter's name, who has a very significant role in the journey, so George is a deep, deep part of it."

We are having issues raising money for it, getting it financed, because what we get all the time – all the time – is people wanting to reboot it.

It's 'Let's do Bill & Ted with new teenagers', but what we wanna do is the story of Bill and Ted as middle-aged men, and tell what we think could be a really funny, and actually really moving, story about their lives and where they are now – their families, their kids…

It's one of those movies that has grown over time. I'm certain that whoever invests in this could make their money back, and hopefully a lot more.

It's never gonna be a movie that me and Chris Matheson get rich on. I've never made much money off of Bill & Ted. We never get profits from it, our salaries were very small from it, but it's the one movie in my life that… if I'd never done anything but Bill & Ted, I would've been really happy.

Chris and I have said this to each other many times, if the only thing we put into the world ever was this notion of 'Be excellent to each other', we could look each other in the eye and feel like we did something right. I really feel that, and I'm really proud of that.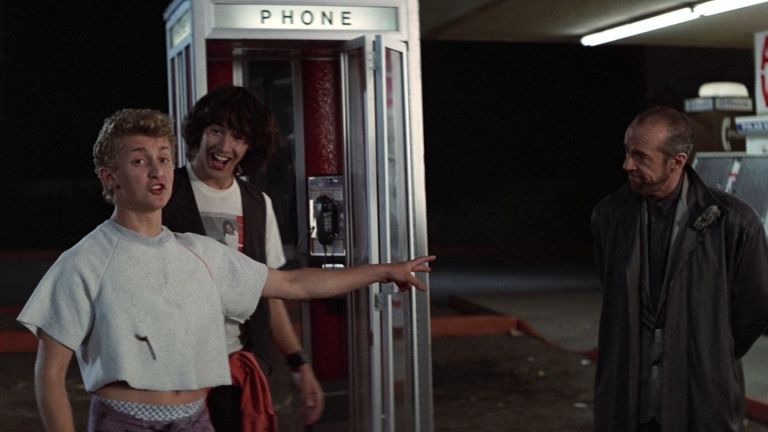 Well, it sounds like it's going to be absolutely epic if it can ever get made. I can't believe that people aren't willing to put their money behind it either as surely it would be an absolutely massive movie if it came out? I know he says it only got a limited release in America but it seems like everyone you ever meet has heard of Bill And Ted and seen it, so there's no doubt in my mind that a third movie would be absolutely massive. Idiots.
For more Keanu Reeves, check him out being the classiest guy on the New York subway. What a gent.