The music video for Young Thug's song 'Wyclef Jean' was released this week and has become an instant sensation, though not really because of the track/video itself, but more the circumstances around how it was filmed.
Featured Image VIA
As he explains over the course of the video, director Ryan Staake had to film the whole thing without the video's star (Young Thug) present. Incredibly, he managed to spin what should have been a complete disaster into something totally unique:
Just an amazing look into how frustrating it can be for a director to work with flaky, useless celebrities. Staake really thought outside the box on this one and ended up doing the absent Young Thug (and himself) a massive favour with the results. Especially when these are the only pointers he had to work with:
20 kiddie cars being driven by army of bad bitches.

Kids driving police cars.

Kids and bitches destroy police cars with baseball bats.

Pool party with bitches.
The best part? This little clip at the end: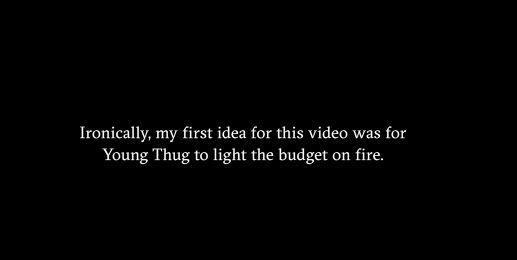 $100,000 down the toilet? Nope, more like the best $100,000 Young Thug ever spent.
Now for something a little different – the most fucked up music video of all time, courtesy of Dethklok and their song 'I Ejaculate Fire'. Yup.