Finally there's now a way that you can continue drinking in the morning and it not be hideously inappropriate – as nobody will even know that you're doing it.
That's because you can get your alcohol hidden in the form of a Pop Tart with the aptly named Boozy Pop Tarts. They feature flaky, pastry shells packed with tasty fig filling, and they're smothered in a Port wine glaze and topped with a some rainbow sprinkles for good measure.
That doesn't exactly sound that appetising but I suppose if you want to start drinking at breakfast you're probably not going to really care about what you're drinking are you? The best thing about the whole thing is that you can make them at home yourself.
Here's the recipe so you can get cracking on them – maybe combine it with an early morning rave so you can really kickstart your day: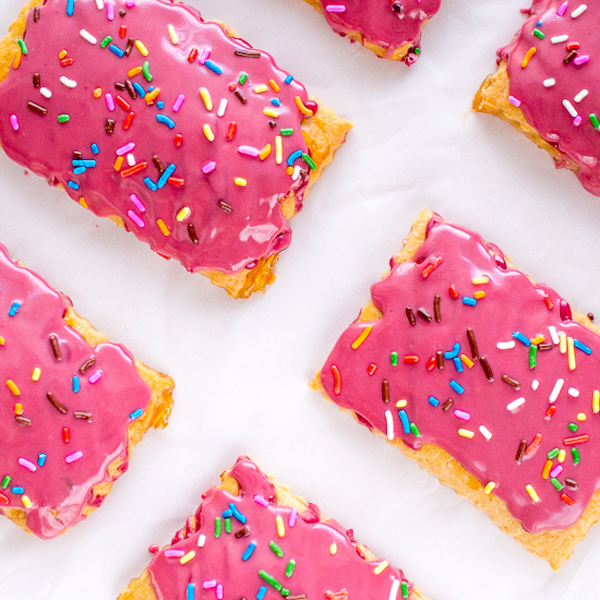 INGREDIENTS
For the pastries:
1-1/4 cups all-purpose flour
1-1/4 cups whole wheat pastry flour
1 tbsp granulated sugar
1 tsp salt
1 cup (2 sticks) unsalted butter, cold and cut into cubes
1 egg yolk
5 tbsp milk
1 cup fig jam (or jam of your choice!)
1 egg, whisked (for egg wash)
For the glaze:
½ cup ruby port wine
1 cup confectioner's sugar, sifted
Sprinkles, for garnish
INSTRUCTIONS
For the Pop Tarts:
Place both flours, granulated sugar, and salt in the bowl of a food processor and pulse together a few times until combined. Add in the butter and pulse a few more times until the butter is distributed evenly. Add the egg yolk and milk, and give a few pulses until the dough comes together. Turn the dough out onto a lightly floured surface, kneading a bit if necessary for it to come together. Divide the dough into two equal pieces, and pat each piece out into a rectangle. Wrap each piece in plastic and refrigerate for at least 30 minutes (up to 24 hours).
Preheat the oven to 375 degrees F. Line a large rimmed baking sheet with parchment paper.
Remove one piece of dough from the refrigerator, and on a lightly floured surface, roll the dough out into a thin 12×8 inch rectangle. Score the dough into 8 equal rectangles (2 rows of four Pop Tarts). Place this piece of dough onto the parchment paper. Place approximately 2 tablespoons of jam in the center of each piece, leaving about a ½-inch border.
Roll the second piece of dough out to the same size as the first and lay it out evenly on top of the first piece. Using a crimped pastry wheel (or a pizza cutter), cut the dough along the scored lines. Use your finger to gently seal the edges together. Do not move the pieces of dough apart. Lightly brush the tops of the pastries with the whisked egg. Bake for 30-35 minutes, until the pastries just begin to brown. Remove the pan from the oven and place on a wire rack to cool while you make the glaze.
For the glaze:
Place the port wine in a small saucepan and cook over medium heat until reduced to 3 tablespoons (10-15 minutes). Remove from heat and allow to cool to room temperature.
In a mixing bowl, whisk together the confectioner's sugar and the reduced port wine. Spoon over top of pastries and garnish with sprinkles. Eat while warm (a little messy, but so good!) or allow the glaze to set at room temperature for about 30 minutes
Here are a couple more pictures if you're still not convinced: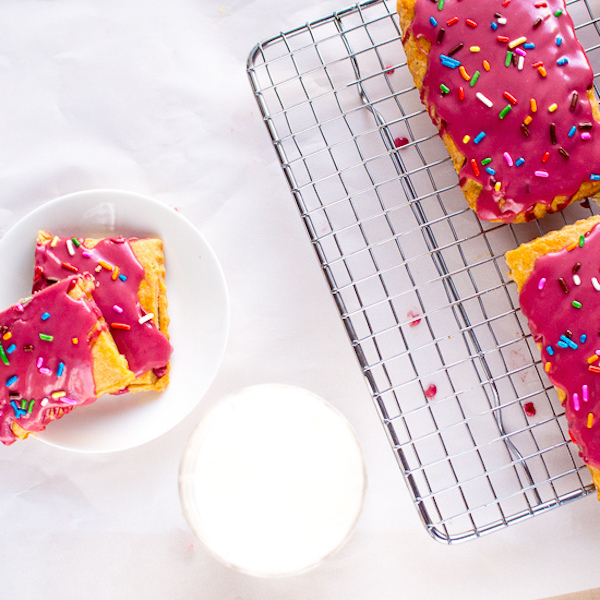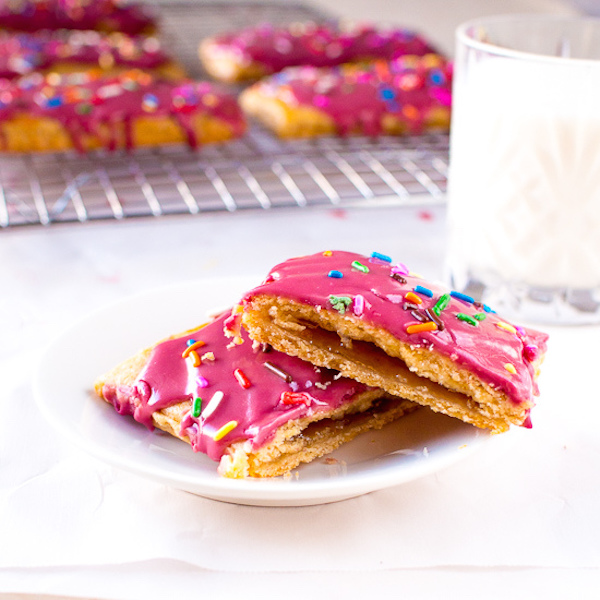 Images VIA